Spring should be a wonderful season to celebrate. It's represents a fresh start, a clean slate, a chance to make a change.
Writers, poets, painters and other creative minds have been fascinated by the springtime for centuries. In fact, some of the most famous lines of poetry and literature are about this time of year.
We've compiled 15 of the best spring quotes (and some spring-inspired art) to inspire you to get out there and make the most of this season of rebirth and rejuvenation.
"Spring is the time of plans and projects."

- Leo Tolstoy

"Never cut a tree down in the wintertime. Never make a negative decision in the low time. Never make your most important decisions when you are in your worst moods. Wait. Be patient. The storm will pass. The spring will come."

- Robert H. Schuller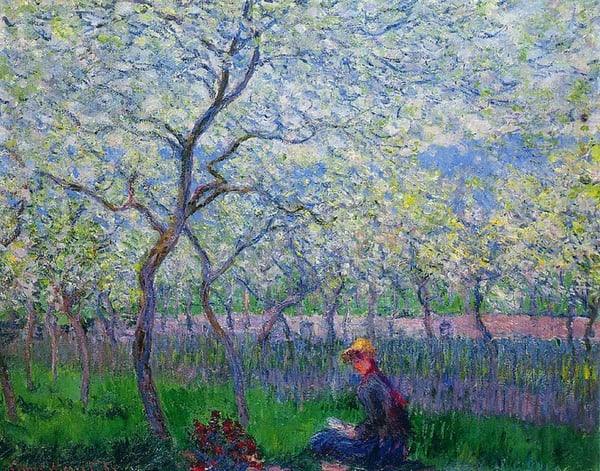 Claude Monet, An Orchard in Spring, 1886
"With the coming of Spring. I'm calm again

Spring won't let me stay in this house any longer! I must get out and breathe the air deeply again."

- Gustav Mahler

"Spring will come and so will happiness. Hold on. Life will get warmer."

- Anita Krizzan

"Spring is nature's way of saying, 'Let's party!"

– Robin Williams
| | |
| --- | --- |
| Irina Velman, Spring in the Air | Irina Velman, Raindrops |
"The spring wakes us, nurtures us and revitalizes us. How often does your spring come? If you are a prisoner of the calendar, it comes once a year. If you are creating authentic power, it comes frequently, or very frequently."

– Gary Zukav

"Despite the forecast, live like it's spring."

– Lilly Pulitzer
Pierre Auguste Renoir, Spring Bouquet Flowers
"The first day of spring is one thing, and the first spring day is another. The difference between them is sometimes as great as a month."

– Henry Van Dyke

"When all at once I saw a crowd, a host of golden daffodils; Beside the lake beneath the trees, Fluttering and dancing in the breeze"

- William Wardsworth
"If we had no winter, the spring would not be so pleasant: if we did not sometimes taste adversity, prosperity would not be so welcome."

– Anne Bradstreet
Vincent van Gogh, Fishing in Spring 1887
"Where flowers bloom so does hope."

- Susan J. Bissonette
"That is one good thing about this world ... There are always sure to be more springs."

- L.M. Montgomery
"An optimist is the human personification of spring"

- Susan J. Bissonette
"You can cut all the flowers but you cannot keep spring from coming."

- Pablo Neruda

"The deep roots never doubt spring will come."

- Marty Rubin
We hope you've enjoyed these quotes about spring and the joys of springtime and found something inspirational but incase we haven't and you think we've missed one out please add it below in the comments section.