Tourism is vital to New Zealand's recovery and we want to inspire New Zealanders to do something new and explore their own country like they do when travelling overseas, rather than relying on routine and going to the same places year after year. That's what Stephen England-Hall, Chief Executive of Tourism New Zealand said recently when they launched their new campaign.
From glaciers to beaches, whale-watching to wine-tasting, New Zealand has so much to offer. Not sure where to begin? Let us help.
The team here at HealthCarePlus have picked our favourite experiences as we encourage New Zealanders to go out there and 'do something new'. Here are our top picks

1. Kayaking in the Bay of Islands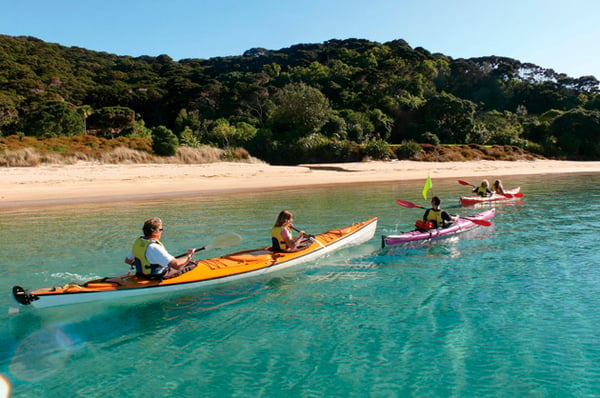 One of the greatest things about New Zealand is its accessibility. The best sights aren't reserved for the rich and resourceful, anyone can enjoy the spectacular nature of this wild land.
This rings true no more so than in the lush surrounds of the Bay of Islands. What feels like a wealthy sanctuary of perfect beaches, deserted islands and secluded inlets, is accessible to everyone. And this region of New Zealand's North Island is concealing some of the countries most interesting and important historical sites.
Hire a boat or a kayak to fully immerse yourself in this slice of paradise. Paddle out to the 'Hole in the Rock' on Piercy Island, or go in search of New Zealand's marine life. Dolphins, whales, fur seals and penguins all love this area of New Zealand as much as we do!
2.Explore the Tasman Glacier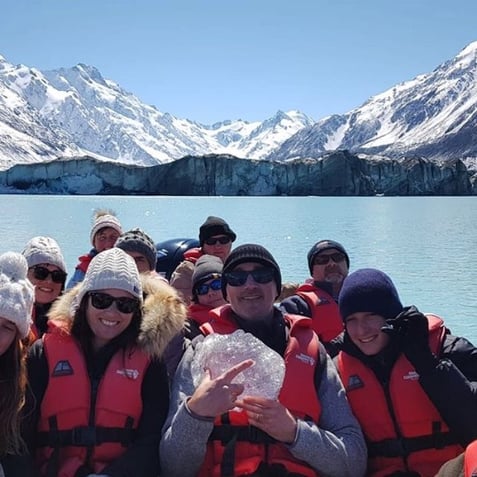 The Ultimate Ice Adventure in summer and it's a boat tour like none other. Surrounded by snow-capped alps, you will be expertly guided thru the ice age as you view the gigantic Tasman Glacier Ice wall, icebergs and the chance to embrace mother natures legacy.
This is an amazing encounter with New Zealand's largest glacier, the Tasman Glacier. Explore and learn about the ever-changing glacial landscape as you journey across the terminal lake. Icebergs of every shape and size periodically tear away from the face of the glacier into the rapidly growing lake. Feel small as the lateral moraines rear up almost 200m, reminding us of the scale and greatness that the glacier has reached in previous times. It makes you feel very small in a magical way
3. Try wine tasting on Waiheke Island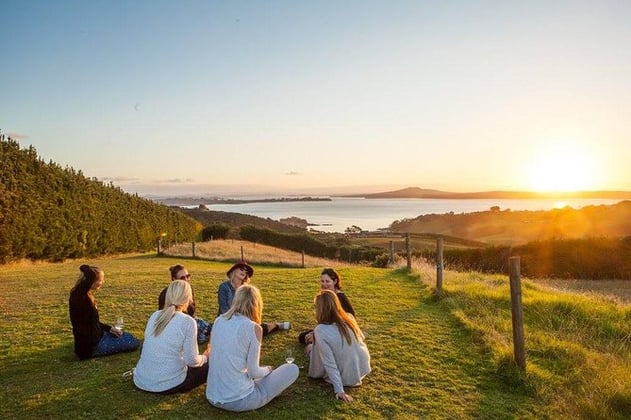 Home to a magical blend of vineyards, olive groves, beaches, art studios and funky cafes, Waiheke Island is an enchanting oasis. Sip New Zealand's finest wines at one of the many vineyards while enjoying sea views.
Waiheke Island is a popular day trip from Auckland City and is super accessible by ferry. Although the island's beaches are noteworthy, it's undoubtedly the award-winning wines grown here that draw visitors back time and time again.
With nearly 30 vineyards competing for space on the 92 sq km island, it's not hard to see why it has earned a reputation as a wine lover's playground. A popular pastime is to take a wine tour to some of the more popular vineyards, or stay for a few days in an exquisite holiday villa and sample the wines on
island time
.
4. Be in awe of Milford Sounds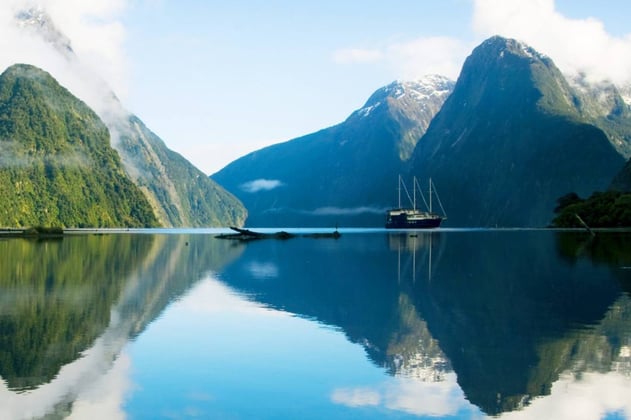 Famously described by Rudyard Kipling as the 'eighth wonder of the world', Milford Sound was carved by glaciers during the ice ages.
Situated on the west coast of the South Island, hours from the nearest town, Milford Sound is where plunging cliffs and raging waterfalls meet inky dark waters. This is New Zealand's wild side at its absolute best.
Breathtaking in any weather, the fiord's cliffs rise vertically from the dark waters, mountain peaks scrape the sky and waterfalls cascade downwards from as high as 1000 metres.
When it rains in Milford Sound, and it often does, those waterfalls multiply with magnificent effect.
5. Travel the Otago Central Rail Trail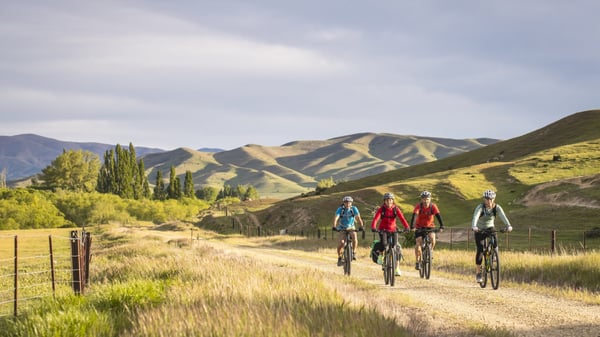 Cycle or walk what was The Otago Central Railway which was once described as one of the great train trips in the world.
The gravelled Trail has a gentle gradient of 1:50 making it ideal for recreational cyclists and walkers. The Trail traverses the region's isolated unique heartland and takes people to places preserved by the dry climate and distinct seasons, not easily accessible by any other means.
The Trail itself is free. You can plan and travel independently or select a Tour Planner to arrange an experience that's right for you. Whether you are cycling as an individual, as a family or part of a large group, the Otago Central Rail Trail is an experience you will never forget.
Are we right? Tell us about your favourites
We had a great discussion in the office and it was hard to whittle it down to five but we know we've missed out many more amazing places throughout New Zealand. So let us know in the comments your picks for the best staycation experiences in New Zealand, so that we all can all do something new.
Travel with peace of mind with our domestic cover offer
Most people know the value of international travel insurance. Did you know it is just as important to have domestic cover when travelling around New Zealand? Whether you are going on a family holiday to Queenstown or enjoying a long weekend in Wellington, travel with peace of mind with our domestic cover from Cover-More, our Travel Insurance Partner .