Life is full of risks, unexpected things can happen at anytime, so at different stages of our lives we require different types of insurance to give us the peace of mind that we are protected if the unexpected occurs. But there are numerous insurance options and it can be difficult to determine what insurance you really need.

Purchasing the right type and amount of insurance is always determined by your specific situation. Factors such as your age, health, dependents, lifestyle, and employment benefits play a role when you're building your insurance portfolio. Therefore, in this article, we focus on the common type of insurance and why you may need them.


The article is taken from our new Insurance Guide which aims to make insurance easier to understand and therefore making it easier to make the right decisions when it comes to protecting what's important.

Here are some of the most common Insurance types:
1. Insuring what we own
Our home, household contents or other belongings are expensive to buy. Many people can't afford to repair or replace these things if they are damaged or destroyed. By taking out an insurance policy we transfer that risk to the insurer, who will pay the costs related to incidents covered by the policy.
It could include damage to our car, house, or the costs of repairing someone else's car or other property that we have damaged accidentally. Most common types of this insurance are house, contents and car.
Home Insurance

You need to decide what your sum insured is – how much it would take to rebuild your home in the event of a disaster.

House insurance is usually required by a lender when we have a mortgage. Lenders mortgage insurance covers the bank if we can't make the payments on our loan.
Contents Insurance

Covers damage and loss of our belongings. It also provides some 'third party' cover if we damage someone else's belongings in the house we are living in or if you damage your neighbour's property.
Insuring our car

Next to houses, cars can be one of the most expensive items we will own. If your car is damaged in an accident or stolen it can be very expensive to repair or replace.

By taking out an insurance policy you transfer that risk to the insurer who will pay to repair or replace your car if these events occur.
The cost of insurance will vary depending on our age, claims history, location including where the car is parked at night, the level of excess we are prepared to take, and the make and type of vehicle.
'Comprehensive' motor vehicle insurance

The most common and it covers us for loss, theft or damage to our vehicle. It also covers us for accidental damage to the other car or property we damage.

Third Party and Third Party, Fire and Theft' cover.

Third party insurance covers for damage to another person's vehicle or property, but not yours. Extending third party insurance to fire and theft covers the risk of our car being destroyed by fire or stolen, too.
2. Insuring our Health
Health is a precious thing. If you fall sick and can't work, you still need money to pay the bills. Insurance can help you make ends meet if you are unable to attend work and or earn your normal income.
There are many types of health-related policies, such as: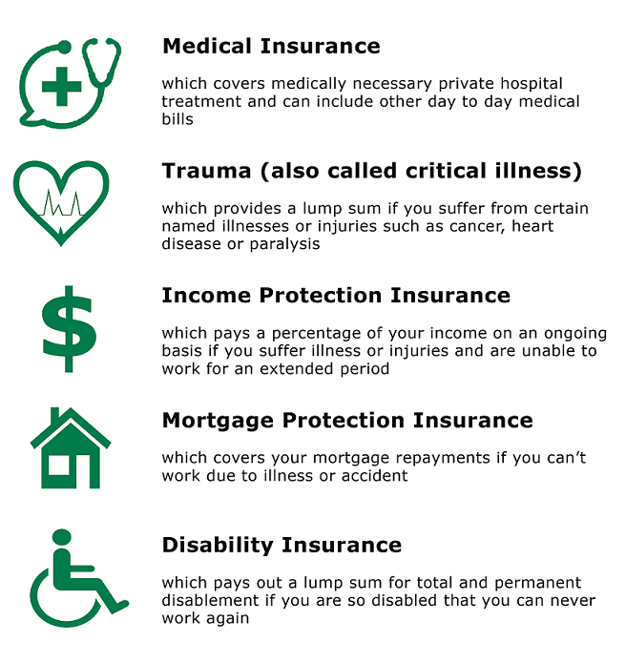 3. Insuring our lives
There are different types of life insurance cover. The most common one today is term life insurance, which provides cover for a fixed number of years usually until age 99 (or until you no longer require it).
Or there is funeral insurance. Note, with both life and funeral insurance if you cancel your plan prior to an event that could result in a claim, you will not receive any refund of your premiums paid.
Life Insurance
Life insurance provides a lump sum of money on death to a named person. The money from your life insurance policy can help your family, repay debt, pay bills (including funeral costs) and cover living expenses.
In most cases the 'sum insured' will be paid out early on the diagnosis of a terminal illness. With life insurance it is important that you carefully select the person (beneficiary) who will receive the payment in the event of a claim.
It is important to review your needs, including the policy ownership every few years as otherwise at claim time the payment of any benefit might be paid to someone you no longer would want to receive it (such as an ex- spouse). Most life insurance policies also do not cover death by suicide for the first 12 or 13 months.
Funeral Insurance
Funeral Cover as it's more commonly known is a financial helping hand you can provide for your family. When you pass away, your family will receive a lump sum benefit payout they can use to cover any immediate expenses, such as a funeral service or outstanding debts. With funeral cover, for the first 2 or 3 years a payment will only be made if the cause of death is an accident. Thereafter a payment will be made irrespective as to the cause of death.
3. Insuring our Travels
It's a good idea to buy travel insurance for any holiday where a cancellation of your plans will result in significant financial loss. Medical bills can be very high in other countries, and it's a big financial risk to go on holiday without travel insurance.
Travel insurance policies cover belongings against loss or theft, extra costs if flights are cancelled, and medical treatment if you have an accident or become ill and repatriation home in the event of an accident or death.
For further details about those products check out our Insurance Guide, or better still discuss your own situation with an expert who can help you make the right decisions on what's best
Speak to an expert first...
We have access to a nationwide team of Monument Financial Advisers*, so if you'd like to talk to one of them from your area, you can book a time for a free no obligation chat about your circumstances and what could be right for you:
---

*For over 30 years Monument Insurance has been HealthCarePlus's appointed business partner to provide financial advice to HealthCarePlus Members on life and health insurance. (HealthCarePlus is not legally able to provide financial advice).