Falling attendance rates led Westland High School to seek the help of the HealthCarePlus 'Grants for Good' program – with fantastic results.

Through our 'Grants for Good' funding, they have been able to implement a project-based learning program for at-risk students. With the help of the funding, the students have been able to take ownership of their learning by creating a business and applying their skills in literacy, research, and cooking. The program has resulted in increased attendance and engagement among the students, especially among Maori students.
As a West Coast school teacher and rugby coach, Michael Waller is used to running things on a number 8 wire mentality.
"Everything is on a budget – even down to the staples in the photocopier, so our grant from HealthCarePlus has made a world of difference."
The Welsh Māori high school teacher at Westland High School, Hokitika, saw too often that students were not turning up to classes and hence failing in their academic achievements. Michael, with the support of his senior leadership team, wanted to find a way to improve attendance levels and provide initiatives that students could get excited about.

"As the rugby coach at the school, I felt I had some say in motivating students to be at school and in class to be in the rugby team. However, for the last three years we haven't had a 1 XV team, so it's been difficult to positively influence attendance," says Michael. "And because we're a small team with an even smaller budget, new initiatives are almost impossible to get off the ground."
Until HealthCarePlus came along. "We got to work planning a project-based learning class, where the students had a say in the direction of the class," says Michael. "The 'what' and the 'how' of the project were in the hands of the students."

The students decided to set up a business with the $11,000 grant they received from HealthCarePlus. They focused on selling chillis and honey and using the profits in equal thirds to fund next year's projects, give back to their charity of choice and spend on their term 4 class trip.

"At the end of December 2022, I planted some chilli seeds, and by February the students were ready to look after them, researching how to get rid of the dreaded white fly, organising watering rosters, leaning on students with experience in gardening to lead the way," says Michael.
Once ripened, the chillis were harvested, dried and handed out to everyone to create their own chilli oil. The chilli oil competition was born, and the winning recipe was chosen before being batched up and prepared for sale.
"The students were responsible for everything from finding a glass supplier to hiring an industrial kitchen to make the chilli oil at scale."
The initial honey venture was replaced with a coffee venture when the students quickly realised it was the wrong season for bees and they'd worry about bee diseases. "Their maturity at dealing with the honey set-back blew me away," says Michael.
"They produced a business plan that said the investment that they were going to commit to hives, suits and equipment would be better spent on upskilling them to be baristas. Once qualified, they'd be guaranteed weekend jobs, and the commercial-grade coffee machine we've bought instead means that they've starting to sell hot drinks to staff, visitors and at sporting fixtures on the weekends."

And what's been the impact on attendance?
"Initial performance indicates that student attendance overall is up 13 per cent in the project-based learning class," says Michael. "Even more exciting is that Māori attendance is up by 23 per cent compared to overall school attendance."
HealthCarePlus has been a lifeline for this small-town school, and the financial support has made a massive impact. "We're a small rural school with only 320 students, but this has been priceless for us in terms of engagement," says Michael.

And what advice does Michael give other people who are thinking of applying? "I know the paperwork can seem daunting. Don't think you'll get it done in a free period. But if you think about the positive impact your project can have on the community, beyond just the classroom, you'll be onto a winner. It's definitely worth the time invested."
After 20 years of teaching, Michael is proud to say this has been his best year. "It's amazing to give confidence-boosting life skills to these students, who might otherwise have fallen through the cracks."
Below are some photos taken by Michael Waller while students were working on their home-made chili oil.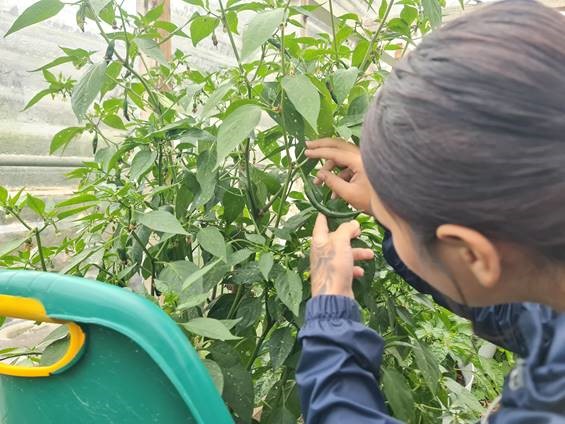 Student checking the health of the chilli's before harvest.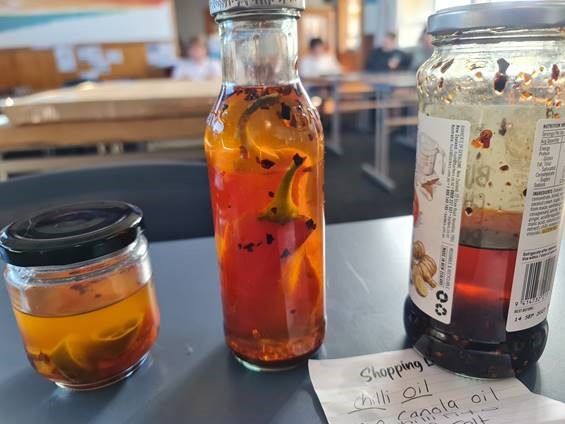 3 of the home made chilli oil examples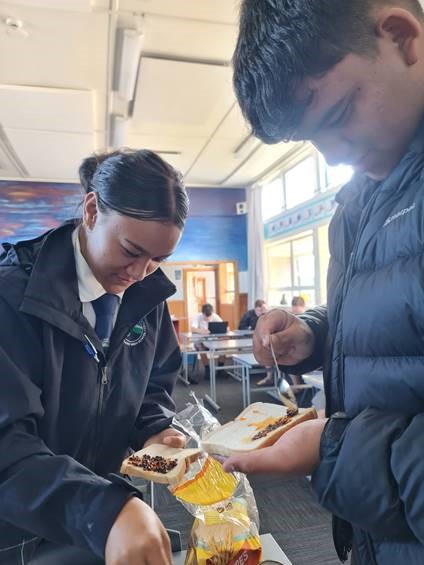 Students testing out the home made chilli oil from plants they have grown.
---
Feedback from our Grant's committee about this project:

If you are interested and want to know more this year's Grants for Good and how to apply for one, then click here.