As we count down to Christmas Day, we thought it would be a great idea to find 10 alternative dishes to Roast Turkey that you can serve to your love ones this Christmas.
Whether you're looking for a vegetarian dish or a delicious alternative to a traditional Christmas roast, we've picked out 10 mouth-watering recipes to inspire you, from a colourful vegan stuffed celeriac, to hearty roast beef and succulent salmon.
If you're looking for a Christmas dinner with a difference, this festive spiced duck makes a wonderful alternative. Serve with sweet squash, earthy chestnuts and a sharp pomegranate salsa for a deliciously colourful dish that's dairy- and gluten-free, and guaranteed to become a firm family favourite.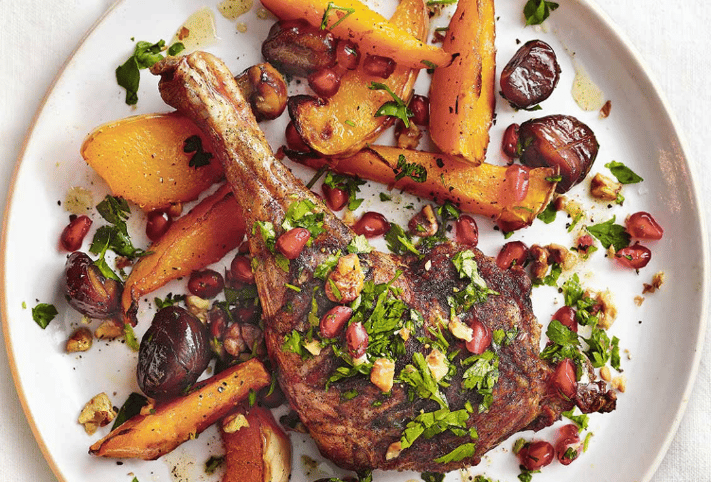 Ingredients
3 x 462g packs duck legs
2 tsp Chinese five-spice
2 tsp sea salt flakes
1 large butternut squash (approx. 1.2kg), halved lengthways, cut into 6 wedges and deseesded
180g pack whole chestnuts
2 cinnamon sticks
40g walnut pieces
30g pack fresh flat-leaf parsley, chopped
80g pack pomegranate seeds
Method

1. Preheat the oven to gas 7, 220°C, fan 200°C. Trim the excess fat from under the duck legs; discard. Make 2-3 slashes through the skin on the top of each leg and rub with five-spice and salt flakes.

2. Arrange the squash in a roasting tin and place the duck legs on top. Roast for 15 mins, then turn the squash and baste the legs. Add the chestnuts and cinnamon sticks to the tin and return to the oven. Reduce the heat to gas 6, 200°C, fan 180°C and roast for 45 mins.
3. Put the walnuts on a small baking tray on a low shelf in the oven. Toast for 12 mins until lightly golden. Set aside.
4. Turn the squash again and baste the duck legs. Return to the oven; reduce the temperature to gas 4, 180°C, fan 160°C and roast for 40-45 mins until the squash and the flesh on the legs is cooked through and tender, and the duck skin is crisp.
5. Chop the walnuts and mix in a bowl with the parsley and pomegranate seeds; season. Discard the cinnamon sticks and serve the squash (sliced into wedges), chesnuts and duck legs with the salsa scattered over.

Make sure you follow us on Facebook or read our other Blog articles for the rest of the recipes in our '10 Best Alternative Christmas Mains' series, like this Salmon En Croute with Spinach and Almonds.