Summer is a beautiful time for hitting the beach, swimming and spending time in the glorious sunshine which helps turn your skin a lovely golden brown shade while you make the most of your summer break. However, at the end of a fun day, there's one thing that's less than ideal – sunburn.
It's not only unsightly, turning your skin that dreaded shade of lobster, but also very painful.
Sun in New Zealand
Even with no visible symptoms from exposure to sunlight, UV rays can still affect the health of our skin.
The unique environment in New Zealand can make your skin easily burn even on a cloudy day. It's the ultraviolet (UV) rays in sunlight that damage the DNA in our skin, causing redness. In response, our skin will peel off in dry layers, but it's a painful process that can take around a week or longer to heal completely. Even with no visible symptoms from exposure to sunlight, these UV rays are still affecting the health of our skin. If you want to check UV index level in your area, click here.

Sources: Esko (2019)
Whilst the ozone layer offers some protection, UV rays can and will penetrate through clouds to affect us. In summer, when there are plenty more days of clear skies, it's vital that we protect ourselves, when going out.
Sun Safety Tips
There are many things you can do when out and about, visiting the sights in New Zealand.
1. Cover up
Always cover up when you're out in the sun. Although a long-sleeved shirt and long pants with a tight weave are best, they aren't always practical. A T-shirt, long shorts or a beach cover-up are good choices, too – but it's wise to double up on protection by applying sunscreen or hiding in the shade when possible.
2. Wear sunglasses
The sun can cause serious damage to your eyes so always wear sunglasses when you're outside, plus you'll look super-cool! Remind kids to wear sunglasses but you need to make sure sunglasses meet the Australia/New Zealand safety standard (AS/NZS 1067:2003) by checking the label or asking the retailer. It is unlikely that kids will wear these at school, but they can be encouraged to wear them at the beach particularly to protect their eyes from the glare of the sun off the sand and water.
3. Use sunscreen
Make sure you apply it about 15 minutes before going outside and re-apply it every couple of hours. You must re-apply it more often if you've been swimming or you've sweated a lot. Using a high SPF (sun protection factor) of at least 30. The sunscreen should meet the New Zealand and Australia standard AS/NS2604. Remember to apply sunscreen everywhere – that includes places you might not think about such as your ears, lips, back of the knees and tops of your feet.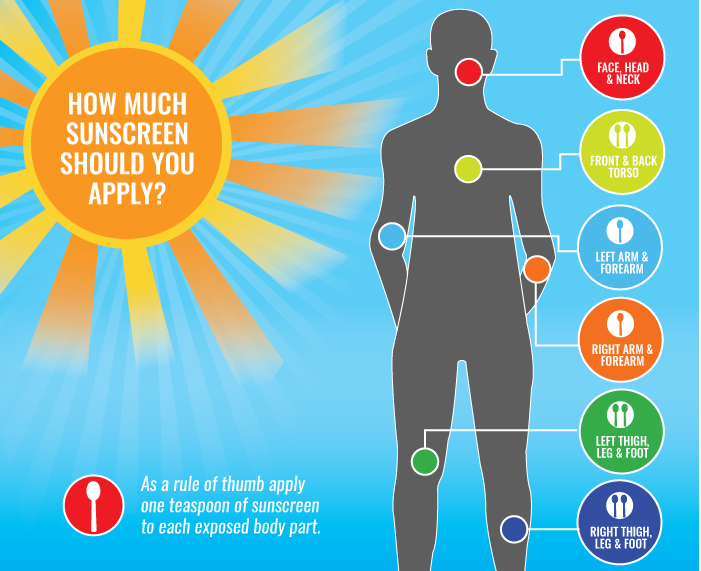 Sources: Esko (2019)
4. Shade is cool
If you're spending time outdoors, look for shade. UV rays are strongest and most harmful during midday, so it's best to plan indoor activities then. If this is not possible, seek shade under a tree, an umbrella or a pop-up tent. Use these options to prevent sunburn, not to seek relief once it's happened.
5. Check your skin
Get regular skin checks and get to know your own skin. It is important you check yourself regularly for any moles or skin patches that have appeared or changed over time. If they change, bleed or itch, of if new ones appear or you have any concerns whatsoever, see your GP or skin specialist straight away.
Remember we can help with the cost
Please remember, under the Medical, Specialist and Tests benefits of our day to day health plans, Members who have been with us for more than 3 months can claim back 50% of the cost of their GP visits as long as they don't exceed their annual benefit maximum.
In addition to that members who have Primary Care Extra are eligible to claim back 50% of the cost of mole mapping, if it doesn't exceed that annual benefit maximum. If you would like to upgrade to Primary Care Extra to get this benefit, please click here.
More Information
Click on the Be Safe Sun Smart link for more information from the experts