Every month we ask a sample of our members about our service and how we can improve it and one of the most common issues that came up was our online claim form and how it was proving difficult to use.
At HealthCarePlus, we take our customer feedback very seriously and we recognised that the fillable PDF form we were using was challenging to use and old technology and we've been looking into alternatives.
So we are delighted to announce that we have developed a new online claim form. It is much easier to fill in your details, upload your receipts/invoices by scanning or taking a photo.
On average, our Members spend around 5 minutes to complete the form and submit it.
So, we would like to walk you through:

1. Things you need to prepare before making claims
To submit a successful claim and get reimbursed faster. You'll need the following:
Have your Membership number to hand
If you haven't provided UniMed with your bank account number or

your bank account details have changed, you will need it to hand to update your details in the form before submitting it

When Scanning or taking photos of your receipts please remember the upload limit is 20MB so a large number of photos will use that memory up quickly. So if you are uploading a large number of receipts, we recommend attaching them as pdfs.
Name your documents in order of family members
2. Step-by-step instructions
To make online claim, please go to our website healthcareplus.org.nz and click 'Make a claim' button on the top right hand corner.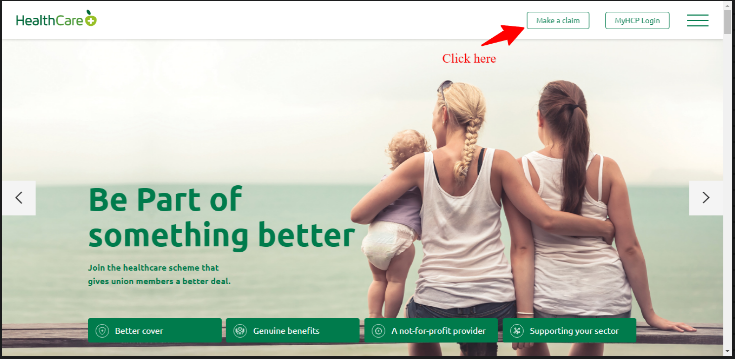 From there, you will be taking to a new window. All you need to do is click on the 'HealthCarePlus Online Claim form' button to open the Online Claim page.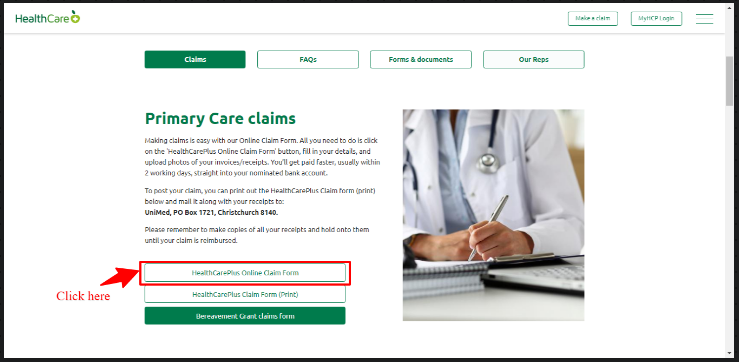 Now you can fill in your details...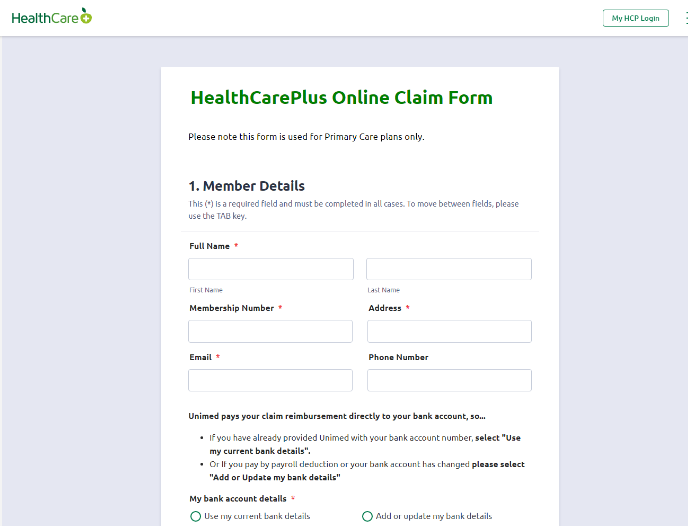 Upload your receipts/invoices...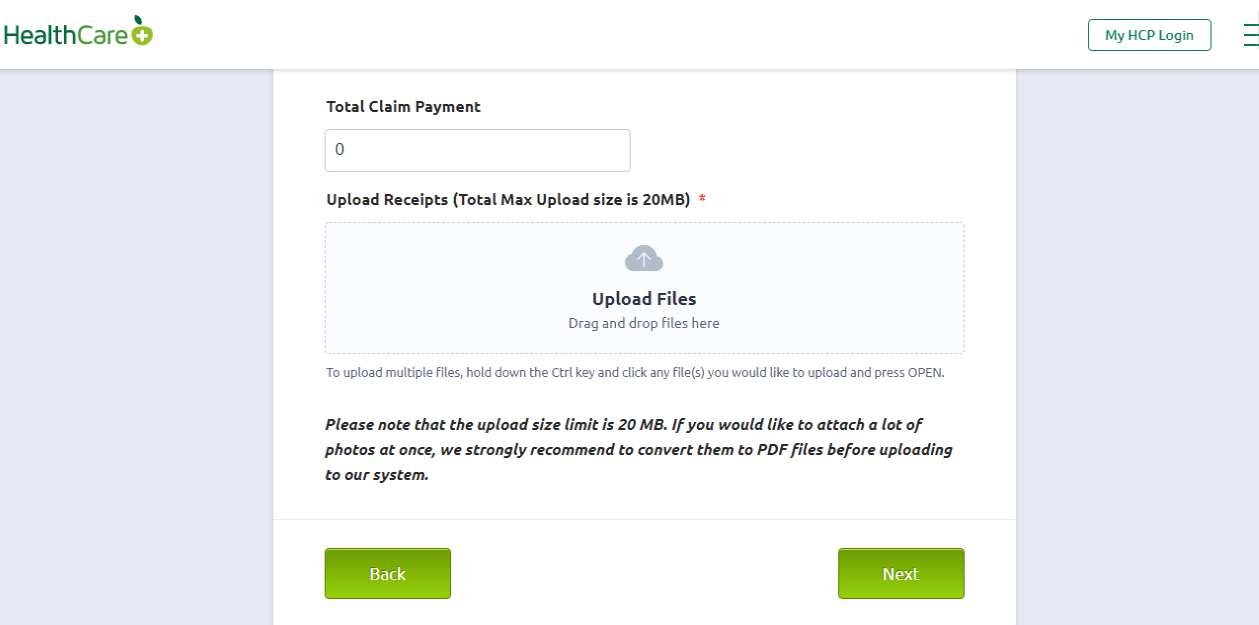 And then before you submit claim form remember to check all the form details by using the "Print" button. You can also save a copy of your filled claim form for future reference.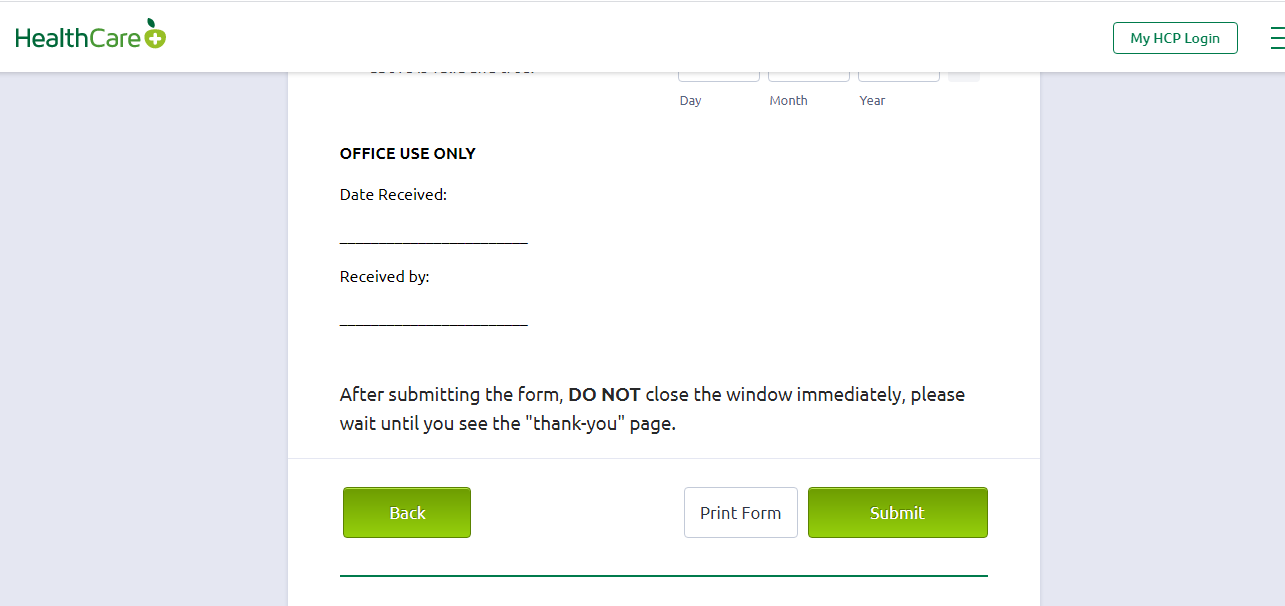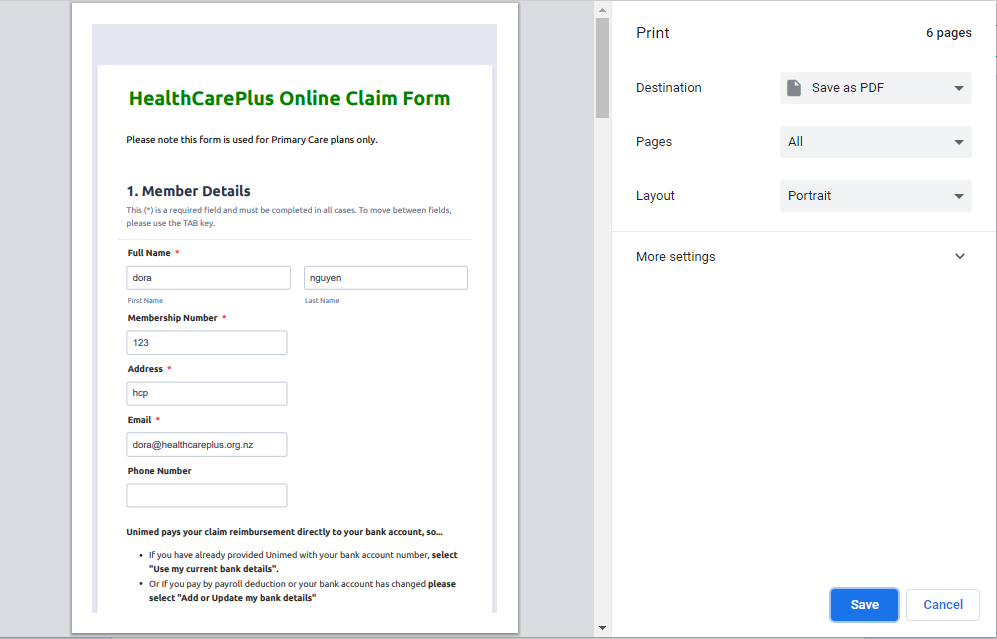 Once submitted, you see the thank-you page before closing the window.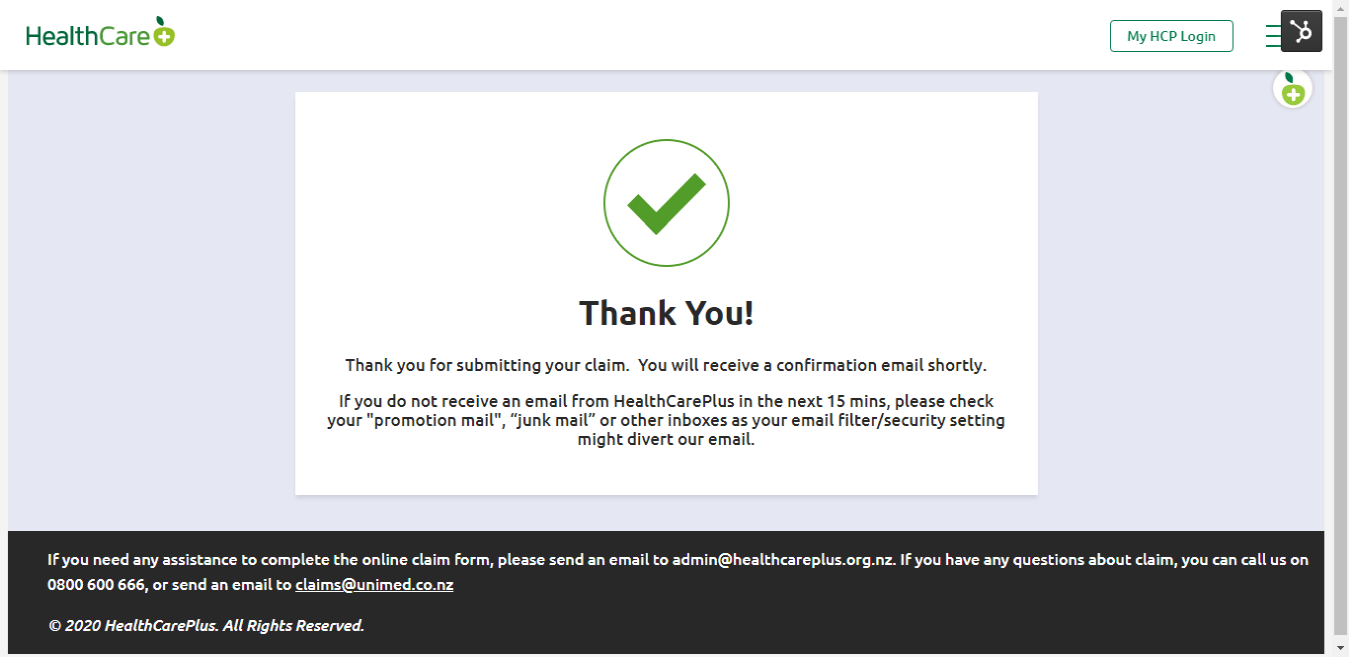 You will then receive a confirmation email shortly(see below). If you do not receive an email from HealthCarePlus within 15 mins, please check your "promotion mail", "junk mail" or other inboxes as your email filter/security setting might divert our email.
3. How to Save the form and continue later
If you would like to save your form and continue later, please use the "Save" button at the end of each form page.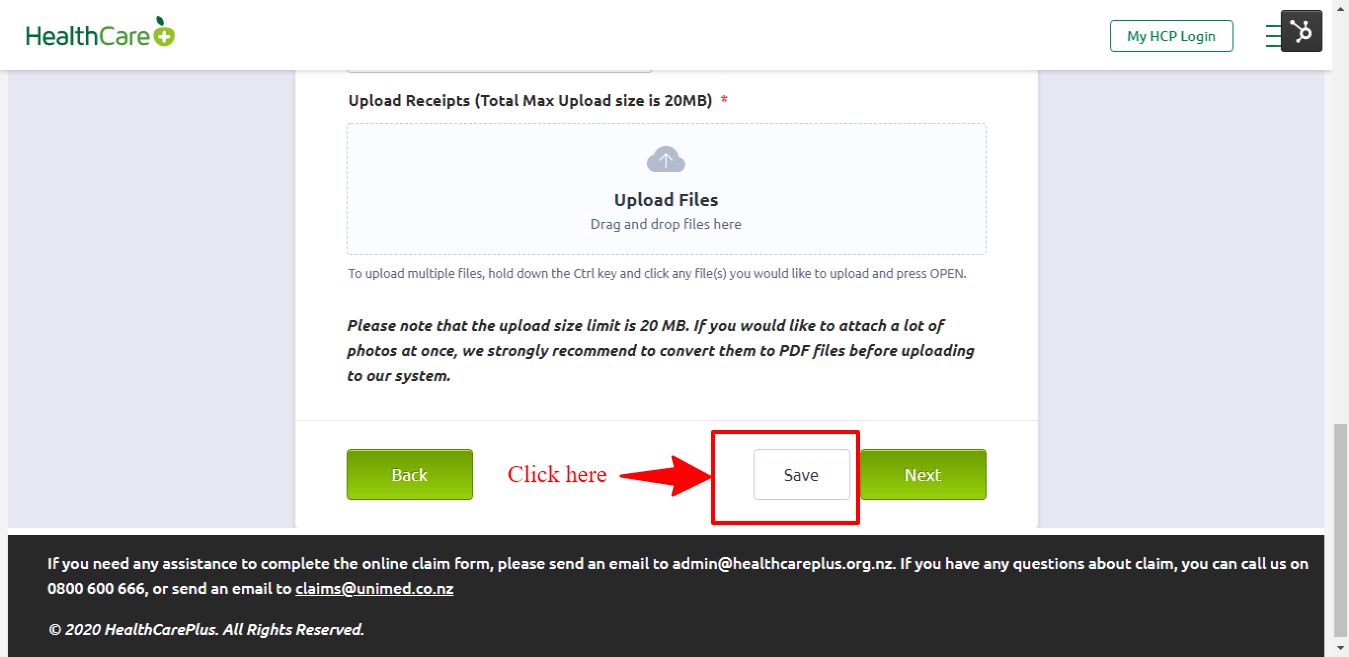 You might see this popup, please choose "Click here"...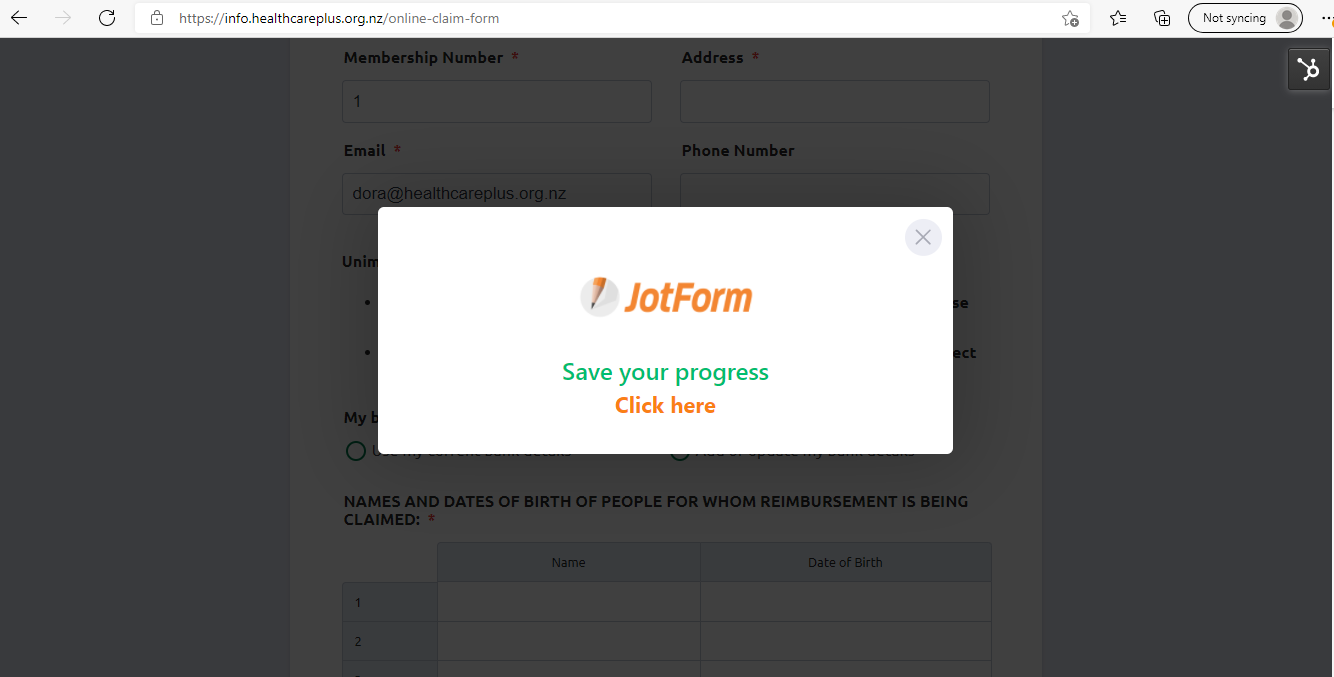 Then you can enter your email address to get the saved link delivered to your inbox or click "Get sharable link".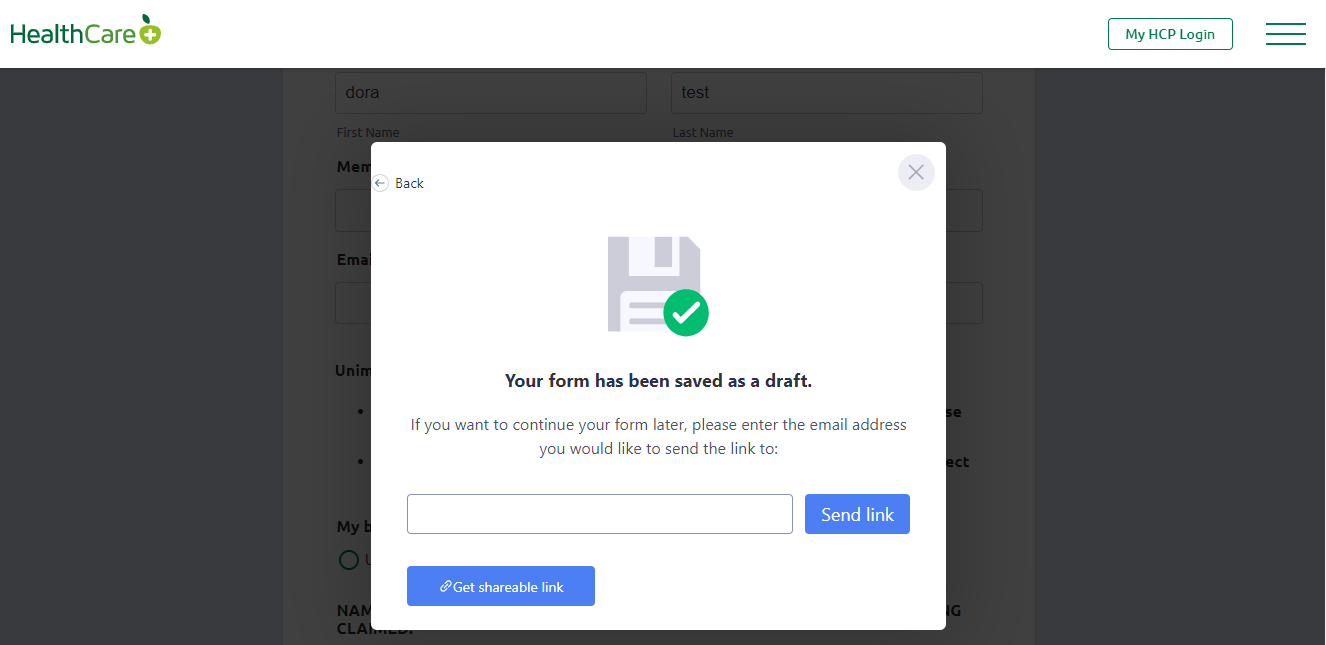 You will then receive the reminder email...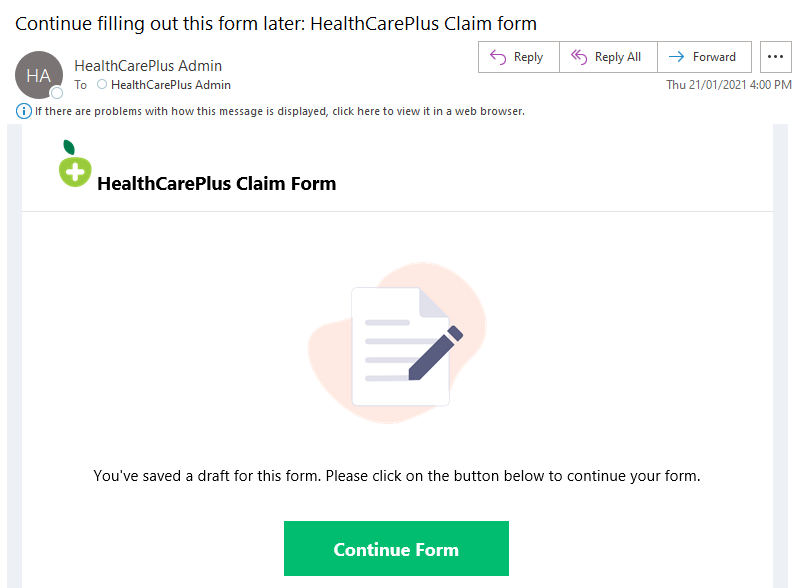 4. What to do if I am having issues with the form?
4.1 I am not able to open the form, there's an error warning (502 bad gateway, etc...)
You can try to open the form in an incognito window to check if you have the same issue. This is often a temporary error, so please try it again later. After several attempts, if you are still not able to open the form, please contact us at admin@healthcareplus.org.nz
4.2 I am able to submit the form but didn't see the "thank-you" page
Below are some suggestions you can try. Please note this method only work for computers so if you are using a tablet, we strongly recommend you to try with a computer instead.

- In the same browser that you used to submit the claim form, open a new tab to see if your details are still there. If yes (the form will ask to continue or not), click continue the form and try to re-submit. If you are not able to submit, please go back to the previous page and try to save the form as a PDF by clicking on the "Print form" button. This way you can send this PDF form together with your invoices to claims@unimed.co.nz.


- If you can't see any details, please try to fill in the form again with a different device or internet network. As this may be an issue from your end, for example, internet connection, or security applications in the device which prevent you from submitting the form.
4.3 I haven't received the confirmation email. I already checked all other inboxes
Please send an email to admin@healthcareplus.org.nz so we can check and re-send the confirmation email.
If you have any other issues with our new online claim form, please send us an email with screenshots to admin@healthcareplus.org.nz. So our team will be able to assist you as soon as possible.