Thanks to Julie from Rediscover for this recipe.
This hearty recipe uses six large potatoes and is enough to serve six so it's an economic meal! This could work just as easily with skin on, cold potato leftovers, or mashed potato.
"Leek and

Potato

soup is a winter classic. Whether you like it chunky or pureed smooth, the flavour is hard to beat."

Says Julie from Rediscover.
Serves: 6
Prep time: 10 minutes
Cooking time: 30 minutes
Ingredients:
2 Tbsp oil
1 onion, peeled and diced
1 leek
6 large mashing potatoes, peel and diced
1 1/2 litres of water (or stock)
2 tsp salt (only if using water)
freshly cracked black pepper
crumbed feta, to serve
croutons, to serve
fresh herbs, to serve
Method:
Heat the oil in a large heavy based saucepan or frying pan. Add onion and leek and saute until soft. Add potatoes, water and salt. Bring to boil and cook until potatoes are soft (approx 30 minutes).
Using a wand beater (or transferring in small batches to a food processor) puree the soup. If the soup is too thick add enough boiling water until you are happy with the consistency. Return to large saucepan and season with cracked pepper to taste.
Bend the rules if you wish! Pour into serving bowls, crumble with feta, generously add croutons and sprinkle fresh herbs.
TIP: Be sure to add salt to the water when you are boiling potatoes. Like rice, potatoes absorb the water they're cooked in. Saltless potatoes will taste bland.
The best potatoes to use for this soup are floury potatoes (such as Agria). Easy to puree or mash, they release starch which helps to thicken the soup, rather than a watery broth.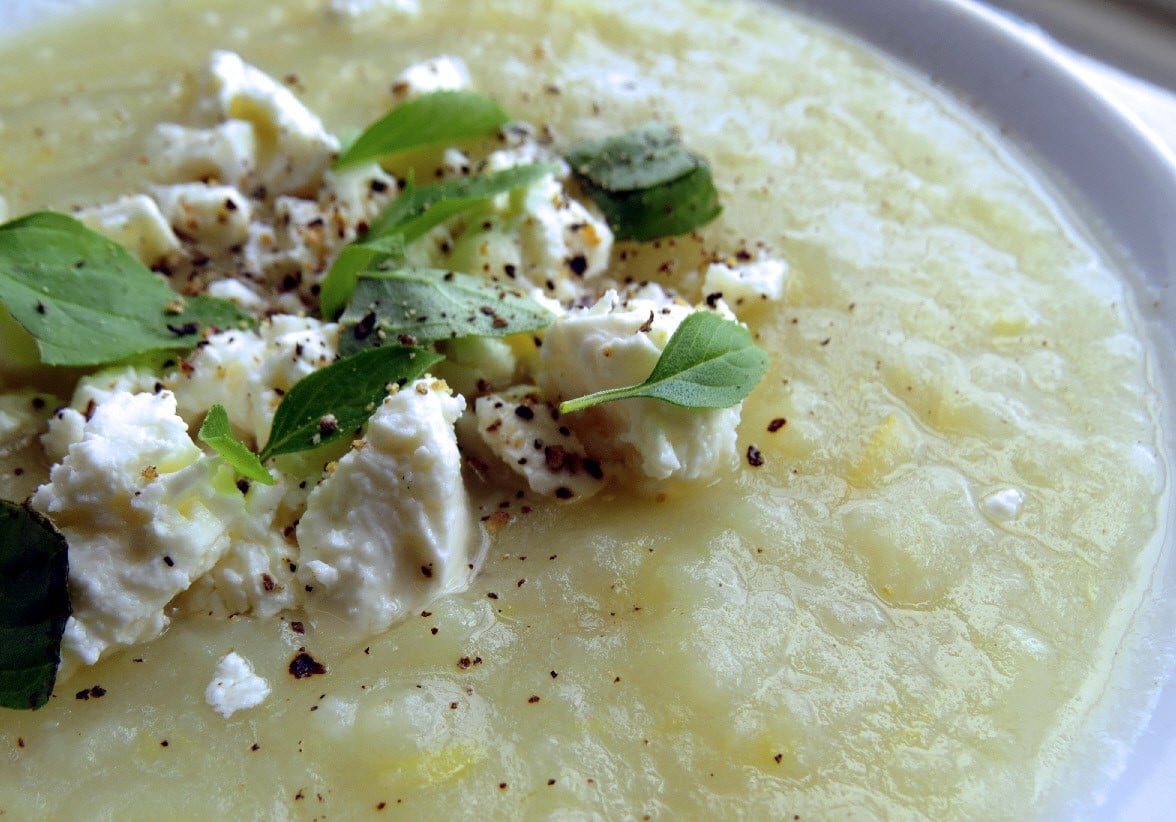 Kitchen Rebels:
Just like any recipe once you know the rules, you can have fun breaking them:
For example, rather than just plain water as the base, you may want to try adding some homemade vegetable stock (although depending on the salt content you may wish to omit adding extra salt).
If a fan of garlic, throw in a teaspoon of minced garlic while you are sauteing the leeks.
Just before serving stir through some cream,

top with croutons, fresh herbs, or crispy fried onion.
For heat lovers, stir through a dollop of sweet chilli relish or caramelised onion for both flavour and texture.
No leeks? Swap for onion or thinly sliced celery.
Please let us know your own tips with this great winter soup by adding your comment on the section below, we are happy to add them in the list.
Again, a big "thank you" to Julie from Rediscover for the recipe and how to make this soup taste even better.