Men's Health Month is aimed at raising awareness of preventable health problems and encouraging the early detection and treatment of disease among men and boys.
NZ's Men's Health Month is about getting men and boys talking about their health concerns, and asking their mates how they are doing.
The website has a series of health topics and information on how they affect men, and well as some guidance on how they can take action to live healthily.
There's also a collection of shareable videos from "good fellas", talking about their health experiences, and a list of support groups for men.
For workplaces
Men's Health Month gives workplaces, healthcare providers, the media - everyone - the opportunity to encourage men and boys to seek regular medical advice and early treatment for disease and injury, and to talk about what's happening to them.
Workplaces in certain regions of the country may be able to book a workplace talk (for a fee), but all workplaces can access posters, stickers, brochures, t-shirts and other resource from the website.
Men's Health Week - 15 - 21 June 2020
Men's Health Week encourages men to take a short survey to find their health "score" and then take steps to decrease their score.
The homepage has some interesting video including some of the several high-profile ambassadors talking about their health issues.
And for Men's Health Week this year, the challenge is to get men to see the doctor for that all important check up. So even if you go regularly or never go at all, make this week, the week you go to get checked up.
Make sure you take the survey and go see a doctor
Once you've taken the survey and read all the literature, it's time to take that positive step and go see your doctor and if you haven't got a doctor then go choose one.
It's important you choose – and yes, you can choose – a doctor that you are comfortable with and trust. A doctor's clinic should be a safe and judgement free place.

Trust makes it easier for you to be fully honest with them (otherwise they can't do their full job), and medical details you share with them are legally confidential.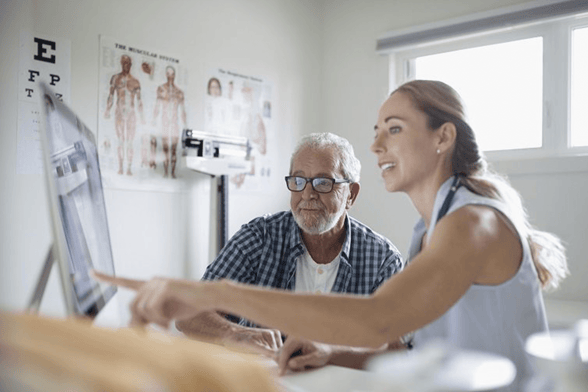 The Appointment – checking you out
If you're a long absent or first time visitor, the clinic will want to record your details (measurements, blood pressure, easy stand up stuff) and this may be done by a nurse depending on the size or nature of the clinic.
When the doctor gets down to the intimate details, remember it's their job to fix these problems so even if they sound embarrassing, bring them up. For example, erectile dysfunction may be an indicator of heart disease or other problems. You are more of a man to bring it up, not less.
Don't hesitate to ask questions and voice concerns as they occur to you during the appointment. Often guys want to seem cooperative and not appear pushy or ask what seems like a dumb question. Remember, it's your body and you are the person who needs to understand what's going on and what's the plan.
It's okay to say to your doctor, 'Wait, I want to make sure I understand what you're saying. This is important and I want to get this right.'
If you are unsure of anything or a little worried, it is cool to bring in someone else who can help you ask questions and ensure you are OK with the examination and what may come out of it.
Your doctor will want to take samples of your blood and these get whizzed off to labs where they analyse everything from your cholesterol levels to your PSA (prostate specific antigen) which is a powerful indicator for prostate issues.
What will this cost?
It's an important question because cost is one of the main reasons many guys don't go to the doctor.
It's likely you will pay from $45 – $75 for a consultation. That's about the same as the $60 average cost of a warrant of fitness for your car.
Some clinics will charge lots less if they are receiving more government support, usually in areas of higher deprivation. Don't be afraid to ask about fees and if any other forms of support are available to you.
The government pays all PHOs a set fee per head annually which is intended to reduce the cost for patients. If you are enrolled but don't go to the doctor, they still receive this annual capitation fee.
Remember, with our day to day plans, we can help you with the cost of GP visits, specialist and health screening tests. Please refer to your policy document for more details or call us at 0800 600 666.