As we count down to Christmas Day, we thought it would be a great idea to find 10 alternative dishes to Roast Turkey that you can serve to your loved ones this Christmas.
Whether you're looking for a vegetarian dish or a delicious alternative to a traditional Christmas roast, we've picked out 10 mouth-watering recipes to inspire you, from a colourful vegan stuffed celeriac, to hearty roast beef and succulent salmon.
A centrepiece to rival a classic Christmas dinner, this vegetarian main is packed full of hearty, nutty flavours and is enhanced by a vibrant, richly tart cranberry sauce.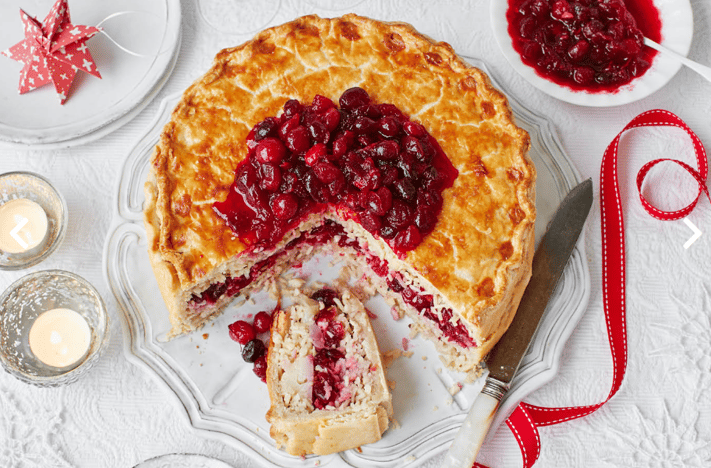 Ingredients
2 x 500g pack shortcrust pastry flour for rolling
For the rice
1 tbsp olive oil
1 onion, sliced
1 tsp fennel seeds
2 garlic cloves
1 bay leaf
350g basmati rice
100g almonds
100g hazelnuts
100g walnuts
1 lemon, zested
For the cauliflower

½ cauliflower head, approx 500g
1 tbsp olive oil
½ tsp cumin seeds
pinch crushed chillies
For the cranberry sauce

400g fresh cranberries
200g sugar
200ml apple juice
1 egg, beaten
Method

1. Preheat the oven to gas 9, 240°C, fan 220°C. Line the base of a 23cm round springform nonstick tin with greaseproof paper. Cut one of the pastry sheets in half. Set aside one half. Combine the other with the complete sheet, and roll out, on a lightly floured surface, to a 35cm x 35cm square, 1cm thick. Gently ease into the base and up the sides of the tin, leaving pastry overlapping the edges at the top. Place in the fridge while you prepare the filling.

2. Heat the oil in a medium pan and soften the onion with a pinch of salt for 5-7 mins, until translucent. Add the fennel, garlic and bay and cook for 2 mins. Add the rice and stir well to coat. Cover with 350ml water, bring to the boil, then turn down to simmer for 10 mins.
3. Meanwhile, blitz the nuts in a food processor until finely chopped but retaining texture. After 10 mins the rice should be cooked and have absorbed all the water. Remove from the heat and stir through the nuts and lemon zest. Allow to cool.
4. For the cauliflower, put a pan of salted water on to boil. Cut the cauliflower into small florets and boil for 2½ mins. Drain, then tip onto a baking tray. Toss with the oil, cumin and chilli and roast in the preheated oven for 15 minutes, turning halfway through. Set aside to cool and turn the oven down to gas 6, 200°C, fan 180°C.
5. Place the cranberries in a pan with the sugar and apple juice. Slowly bring to a simmer, allowing the sugar to dissolve, then let the pan bubble. After 4 mins, remove 6 tbsps to a small bowl to garnish the top. Let the rest bubble for 4 mins, then set aside to cool.
6. When all the ingredients have cooled, layer them in the pie dish. Spoon half the rice into the base and push down to compact it. Spread half the cooled cranberry sauce over and place the roasted cauliflower on top. Finish with the remaining rice.
7. Brush the overlapping edge of pastry with beaten egg. Roll out the remaining pastry sheet half into a 25cm (10in) circle. Place the circle on top of the pie and use a knife to trim the excess at the edges. Push down around the edges to crimp and seal the pie. Brush the top with beaten egg and cool in the fridge for 20 mins. (The pie can be prepared, to the end of this stage, a day ahead.)
8. Bake in the preheated oven for 50 mins, turning halfway. Remove from the tin to a serving plate. Use the reserved cranberries for garnish and the remaining sauce to serve as an accompaniment. Cut into wedges and serve with a green salad or wilted greens.


Make sure you follow us on Facebook or read our other Blog articles for the rest of the recipes in our '10 Best Alternative Christmas Mains' series, like this Stuffed Celeriac with Parsnip Cream