Good news, in spite of the lock-down, NZ Post has confirmed that it plans to continue to deliver our mail bags to UniMed for processing.
However, to ensure the safety of UniMed's staff, the mail will be quarantined for 7 days and thereafter the mail will be distributed to staff for the processing of members' claims payments, premium payments and other correspondence. Please rest assured that all mail is secure during this process and will be processed as soon as possible.
We know some people don't like to use our online claims process but may we suggest, at this time, it may be a good idea to visit the website and follow the online claiming process as claims lodged this way are not caught up in the quarantine delay and claims processing staff can access these claims easily.
So how to make an online claim?
Our new website might still be confusing, so we've created a step-by-step guide to make it easier for you to complete an online claim:
1. Locate your fillable claim form
2. Download the fillable claim form
3. Save to your computer and complete
5. Notes to avoid delayed claim payments
Locate your fillable claim form
It's important that you know where to find the claim form. With HealthCarePlus, you can get access to our form in just two clicks. It is so simple, all you need to do is visiting our Home page, then click on the "Make a claim" button on the top-right hand corner.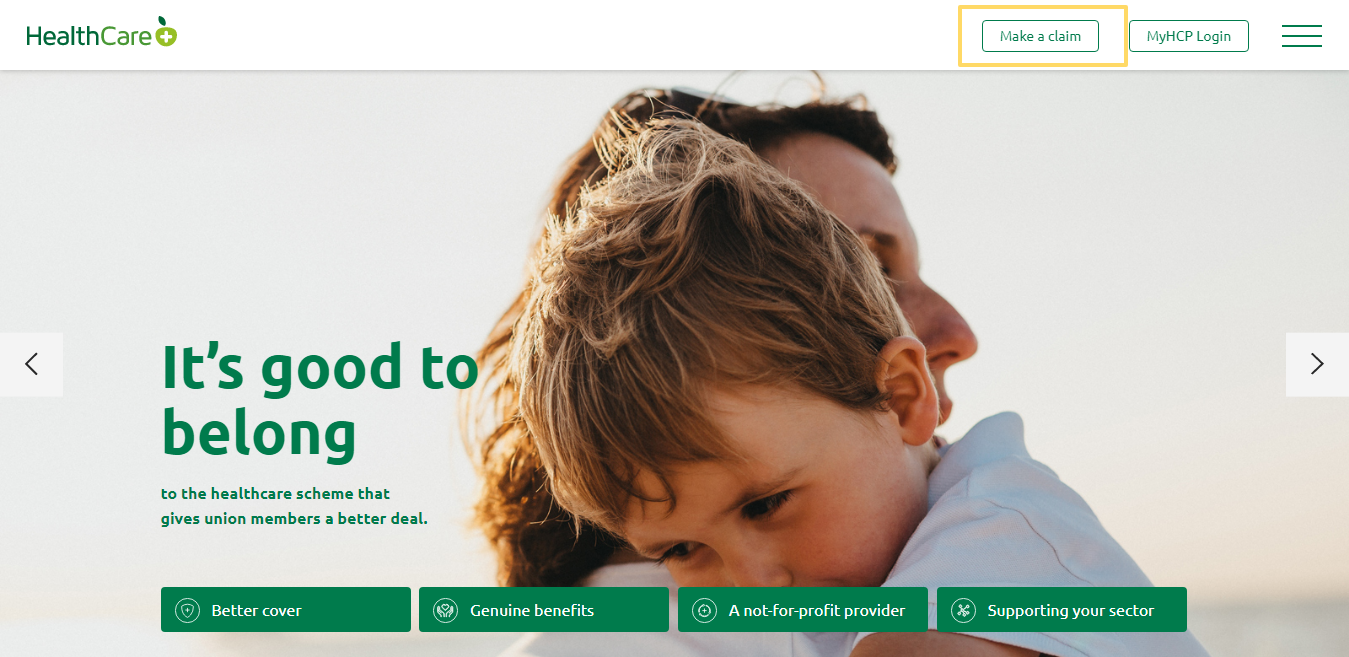 A new tab will be opened with details about how to make a claim.
If you are Primary Care, Primary Care Extra, #care4U policy holders, you can navigate to HealthCarePlus Claim Form (Fillable) and click on the button to download the form.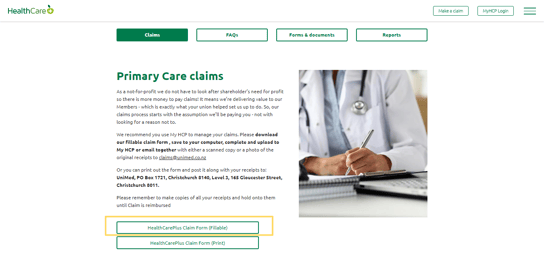 If you have a Hospital Select Plan then you can scroll down to the "Hospital Select Claims" section where you can download "Prior approval form" and "Confirmation of surgery form".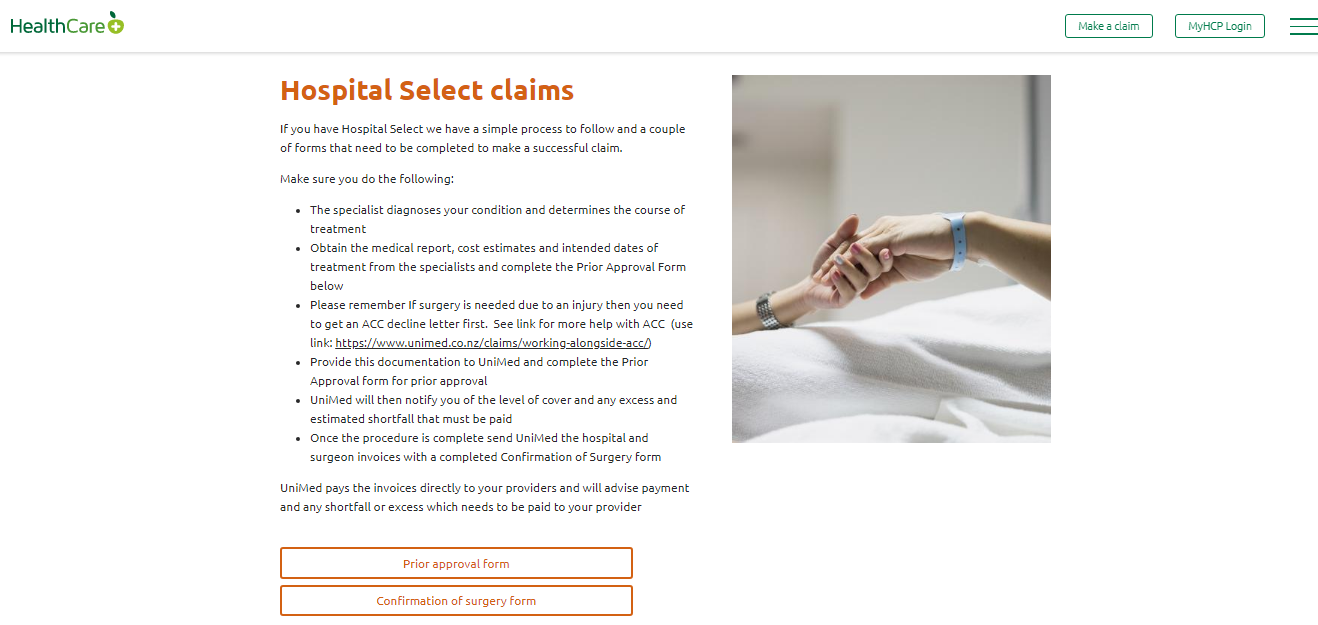 Please note that Hospital Select Plan are managed through your HealthCarePlus Representatives and any claims can be made by contacting them or by contacting the Insurer directly. More details on our website here.
Download the fillable claim form
Please click on the "HealthCarePlus Claim Form (Fillable)" button to download our fresh claim form. This is an important step as it ensures a faster turnaround of your claim and you will be sure that you're always sending your claims to the most up to date email.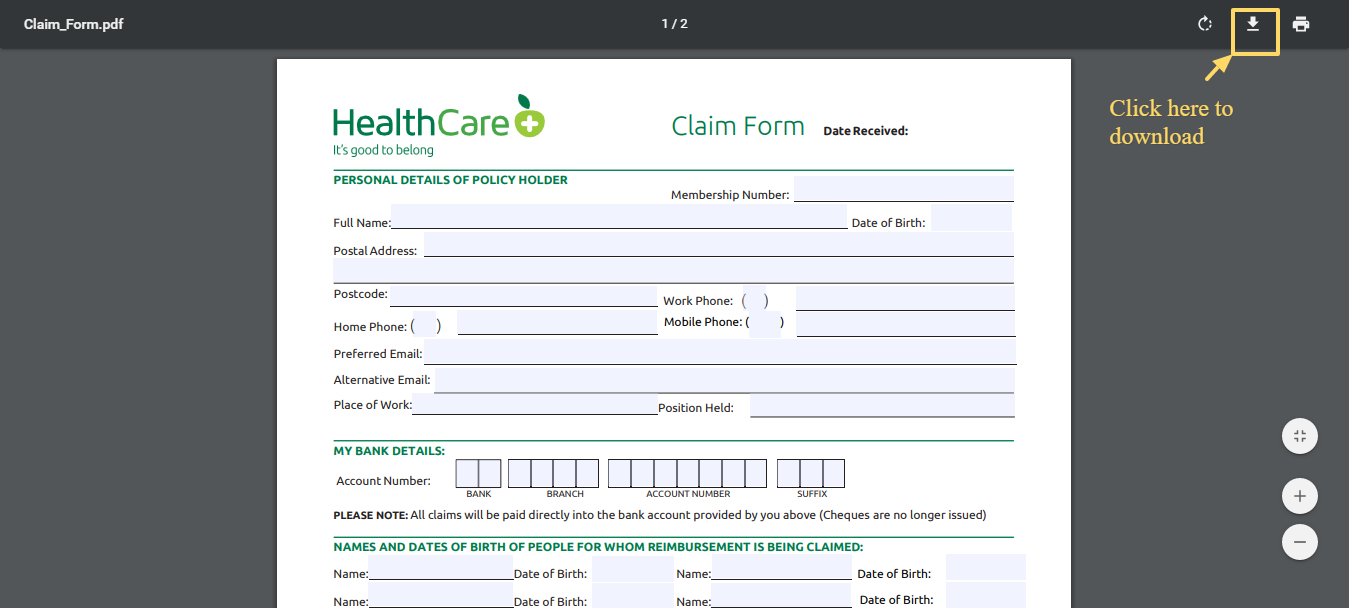 S
ave to your computer and complete
Remember to save the form to your computer with your name and if possible, your membership number. For example: Your Name_Your Membership Number_Claim Form_Date. By doing this, you will make it easier for our claim team to process your application. It is also a great way to document your communication with us for a future reference.
Our claim form is fillable. Once you download and save it to your computer, you can easily fill in the form with your details. Please complete your claim form with accurate information as the smallest details matter while filling a claim and if not kept in mind can lead to delaying overall claim settlement. Simple inaccuracies in your information, for example, name spelt incorrectly, wrong date of birth or policy number, or even just missing one number of your bank details.
Submit your claim
With HealthCarePlus you have two ways to submit an online claim:
1. My HCP
This is the fastest and easiest way you can lodge claims, as well as view your policy details and update your contact details, outside of business hours, when it suits you and at your convenience.
We call our online self service portal My HCP. All members have access to it and it's easy to register for it too.
All you need to do is uploading your completed claim form together with a scanned copy or a photo of the original receipts.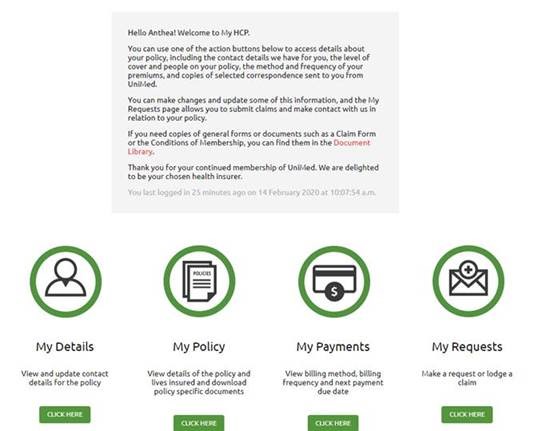 2. Send an email to claims@unimed.co.nz
If you don't use My HCP, then you can submit a claim by attaching completed claim form to an email along with your scanned or photographed receipts and send it to claims@unimed.co.nz.

Please note that there's a free scanner that might help you attaching claims documents. CamScanner is a free app on Android and Apple that easily converts your photos to pdfs. Click on the link below to download.



Notes to avoid delayed claim payments

Please make sure you do the following to avoid delayed claim payments:
Ensure all relevant sections of the claim form are completed
We recommend that all scanned or photographed receipts are legible and are itemised, showing the date of treatment, treatment provider, patient treated,description of health services received and fees charged.
If you have a receipt for $100 or more make sure it's accompanied by an itemised bill not just an EFTPOS or credit card receipt
It's important to retain your original receipts until claim settlement in the event they are required to assess your claim
As our team is now working from home, there will be some reduced capacity via phone so our quickest point of contact will be by email or via our website. For any questions, Members can contact us at:
- Membership Services team: members@unimed.co.nz
- Claims Team: claims@unimed.co.nz
Please visit our "Covid-19 update" page as it provides answers for questions that you may have relating to your policy and claims.