As we count down to Christmas Day, we thought it would be a great idea to find 10 alternative dishes to Roast Turkey that you can serve to your love ones this Christmas.
Whether you're looking for a vegetarian dish or a delicious alternative to a traditional Christmas roast, we've picked out 10 mouth-watering recipes to inspire you, from a colourful vegan stuffed celeriac, to hearty roast beef and succulent salmon.
The fourth alternative Christmas main is Smoky rib of beef with lemon and poppy seed roots
Take a break from your regular Sunday roast and wow your guests with this hearty rib of beef instead. A meat lover's dream, this tender, juicy cut is surrounded by sweet, roasted root vegetables tossed in lemon and poppy seeds.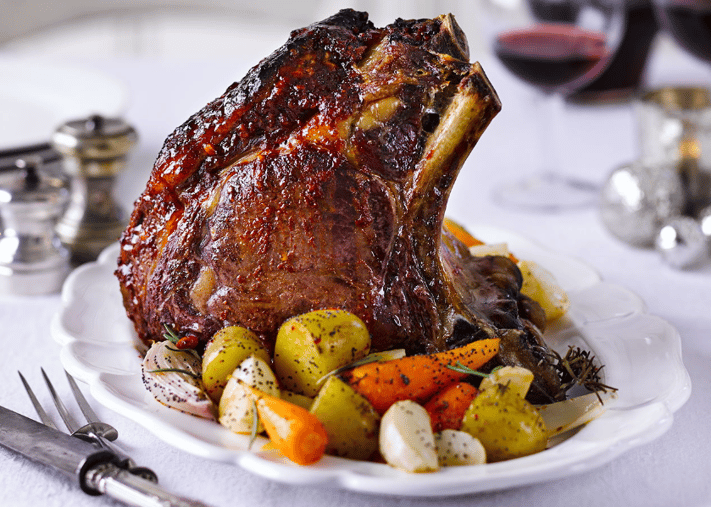 Ingredients
2kg (4lb) rib of beef
2 tsp smoked sea salt
400g (13oz) charlotte potatoes, halved
3 echalion shallots, halved
250g (8oz) chantenay carrots
300g (10oz) baby turnips, quartered
2 tbsp olive oil
4 fresh rosemary sprigs
2 tbsp chipotle chilli paste with smoked paprika
2 tbsp maple syrup
1 tsp English mustard powder
2 tsp poppy seeds
½ lemon, zested
wilted greens, to serve (optional)
Method

1. Preheat the oven to gas 7, 220°C, fan 200°C. Put the beef in a large roasting tin and rub with the salt and freshly ground black pepper.

2. Add the potatoes, shallots, carrots and turnips to the tin, arranging them around the beef. Drizzle the veg with the olive oil, add the rosemary, then roast for 20 minutes.
3. Meanwhile, in a small bowl, mix together the chipotle paste, maple syrup and mustard powder. Set aside, until needed.
4. Remove the roasting tin from the oven and reduce the temperature to gas 4, 180°C, fan 160°C. Spread the chipotle mixture all over the beef fat, then return the tin to the oven and continue cooking for 10 minutes per 450g (14 1/2oz) for rare meat or 12 minutes for medium-rare meat. Remove, loosely cover with foil and leave to rest for 10-15 minutes.
5. When ready to serve, toss the veg with the poppy seeds and lemon zest. Slice the beef and serve with the veg and wilted greens, if you like.


Make sure you follow us on Facebook or read our other Blog articles for the rest of the recipes in our '10 Best Alternative Christmas Mains' series, like this Five-Spice Duck Legs with Squash and Pomegranate.