At HealthCarePlus, we are super excited about the launch of GoodForYou our personalised wellbeing program. It provides the tools and support our Members need to improve their health and mental wellbeing. Whether it's fitness, diet, sleep, social connection or competition, GoodForYou takes a holistic approach to getting the most out of life.
It's been a month since we launched it and we are really pleased with the number of Members who have joined but there are still many Members who haven't yet. We strongly recommend that all our Members do and remember it's free to join up and so if you haven't done so yet, give it a go.
And the good news is if you are an Associate Member (i.e. you do not have a HealthCarePlus Primary Care or Hospital Select plan), you can still join and the cost for you and up to 5 friends or whānau is less than $1per week. For more information, please click here.
Here at HealthCarePlus, the team have all joined and we thought it would be a good idea to share some of our experiences so far.
So here are our 5 key Insights and experiences
The first thing we realised is that it's not about making big bold plans like a new diet or a new gym regime that will make the difference to your wellbeing but, the little things we change around the edges of our daily routine that can really make a difference.
The 10 Healthy Habits Questionnaire which is the foundation and the starting point of the program makes that very clear.
1. It's important to complete the Health Questionnaire
Once completed each of us was given a Wellbeing score and a personalised report which identified how well we had done for each of the healthy habits. That allows you to identify which healthy habits we needed to improve.
One of the biggest surprises was that we all scored poorly in one of the key High Risk Behaviours - Physical Inactivity.
That is because we all spend more than 6 hours per day seated at our desks. Researchers have found that too much sitting is linked to a range of health problems and can contribute to poor levels of energy , mental health and brain function.
So we decided to apply the "10 healthy habits" to reduce our total sitting time and make our everyday better. They are quite flexible and are offered without a strict regime therefore easier to maintain. It is not an 'all or nothing' program, it is more about doing what you can, when you can.
So we changed the amount of time we sit at our desks. We are lucky that we have the ability to stand at our desks and if you also have standing desks then why not do what we did.
2. Try to stand as much as possible
Our typical day involves an 8:30 am start. We tend to stand until 12pm, then after having a lunch break, we will sit down from 1 pm to 4:30pm. For the next day, we can stay on our chairs for the morning, then start our standing challenge at 1pm. The cycle repeats.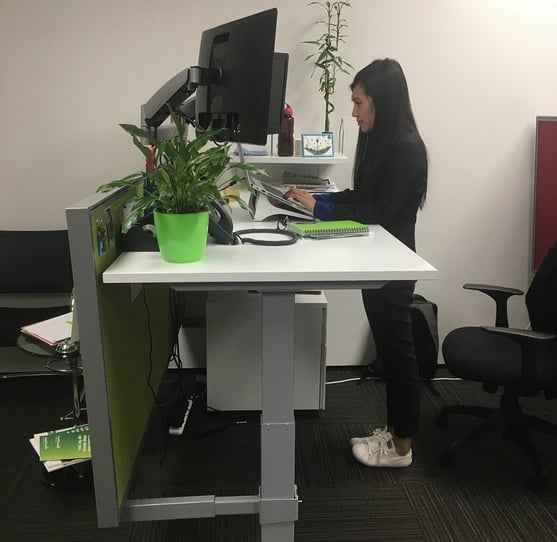 Here is Dora standing at her desk
We all found this schedule works for us. If it's not working for you, try different options, for example, 2 hours standing then 2 hours sitting. It's totally up to you. The main purpose is to reduce the sitting time during the day.
"I used to have neck and shoulder pain at the end of my working day. At first, I couldn't understand why because I adjusted the height of my screens, my table and my chair correctly. At some point, I thought it might be a sign of getting older. However, when I read the recommendation and the articles from GoodForYou, I realised that maybe there was more to my problem than posture: I sit for more than 8 hours per day (7 hours at work and around 1 hour at home). So I decided to make some changes to my working habit. It is only 2 weeks but I started seeing many benefits. I can clearly feel a boost at my energy level (normally I felt a bit tired after lunch) and the pain is almost gone. I definitely keep up this habit for longer."

Dora Nguyen - HealthCarePlus Team
One of the most important tips from us is you should try to encourage others to do the routine with you. By doing so, you won't easily give up that habit. We all have decided to do the standing routine together so we can encourage each to keep going, We have also made it fun by sometimes challenging each other when standing to do 15 star jumps and silly things like that. It's fun and keeps us motivated.
3. Do little things and often
We are all now motivated to find little ways to create improvements to these healthy habits without necessarily making it too hard or taking up too much time in our day – just making a number of better decisions throughout the day helps. For example instead of having our lunch at our desk, we all now take at least 15 minutes of our lunch break to get away from our desk and our computer screens to enjoy a bit of fresh air, move slowly and get some adequate sunlight ( I know, its Wellington).
Going to the kitchen and filling up a water bottle instead of another cup of coffee has been a big one for one of our team. Overconsumption of caffeine can cause anxiety, jitters and nervousness. It can also cause an inability to focus, digestive discomfort, insomnia and irritability.
4. Walk to work once in a while
Another member of the team has decided to walk to work instead of taking the bus. Not every day but he is trying to do so two or three times a week. This way he can reap the benefits of waking up a bit early, enjoying his time walking to work, and listen to his favourite songs. As he said, this is really good for both his mental and physical health.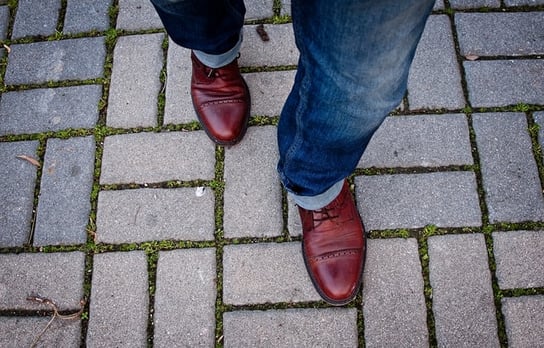 I'm definitely a fair weather walker but I only live in the other side of Mount Victoria and so it takes me about 20 to 30 minutes to walk in. When the weather is nice and I have my music on its a great way to start the day. There is no traffic stress or cramped busy buses to deal with and when I arrive at the office I feel more energised

Alan Sharpe - HealthCarePlus Team
5. Take an early walk or gym in the morning
For our CEO - John Seed - it's easier for him to just wake up early and take a walk...
"Along with 4 friends we set ourselves a challenge to see who can lose the most weight. I find having some peer support/pressure is important to help keep me focused. I chose 2 options to help lose weight namely; changing our diet and walking to the top of a nearby hill in the morning. The views in the mornings are stunning (photo's below) and well worth the effort. When its raining, rather than go for a walk, I do some gym work at home.

The good news is that the combination of a better diet and walking is working, I feel a lot more energized and yes I am losing weight!"
Photo taken from John's morning walk
So I hope these stories from the team of the little things we've done so far will help you realise that it's not all about embarking on a new health regime but just making little changes can make a difference.
So if you haven't done so yet, why not take a look at GoodForYou, join up and remember you can also invite your family/friends to start the challenge with you.
Please share your stories
Your feedback is important to us, so please leave your comments below about how you have made some small changes in your routines that are helping you create healthier habits. We would love to share them with our other Members and hopefully inspire them to get them started and encourage them to build GoodForYou activities into their everyday lives.