When unexpected medical events happen, the true cost of surgery can take many Kiwi families by surprise. Due to the demands placed on our public health system, waiting for treatment that you won't need to pay for, can take about 10 months - which can impact your ability to work and earn, your recovery, and your family.
For New Zealanders who elect to pay from their own hard-earned savings to get faster, private surgery, the costs - even in NZ - can be considerable. Below are indicative cost ranges, for common types of surgery and common medical tests.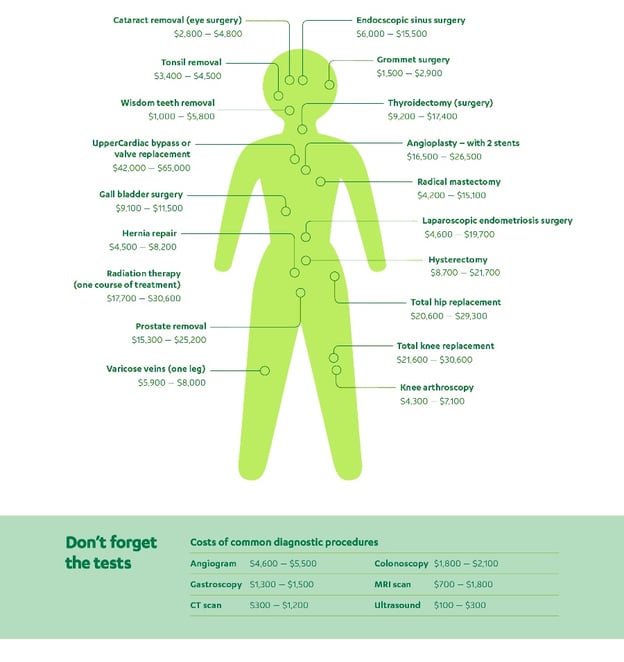 Source: Health Funds Association of New Zealand. This diagram presents an indicative range of costs for some common procedures as at January 2017. Procedure costs will vary depending on the location, the medical practitioner/s, any medical complications, and the medical procedure and technology used. Costs are GST inclusive.
Having the protection of properly-designed hospital cover, means you've got the support you need, to get the treatment you need – without financial worries, and with less waiting time or barriers to treatment. And the sooner you get cover, the more comprehensive your cover can be, and the lower the risk that you will have gained a "pre-existing condition" that may be excluded or worst case, cover will be declined.
Through HealthCarePlus, eligible union members within the education and public services sectors can access a unique form of hospital cover designed to maximise value to members, not corporate profits.

Hospital Select is designed for the NZ health system - with up to $300,000 per admission providing realistic, affordable cover for surgery, cancer treatment, and a wide range of specialist consultations, scans and tests.
---
To find out more about HealthCarePlus Hospital Select, and whether it can offer value to you or your family - you can book a personal consultation with one of our HealthCarePlus Representatives
---