Kiwi travellers are spoilt for choice when it comes to planning winter escapes this year, as more airlines announce their return to the market.
The Pacific Islands have been the among the top destinations New Zealanders have booked for a well earned sunshine break but so too have old favourites like Australia and the UK topping the list too.
Based on recent travel insurance purchase statistics, Australia followed by the UK, Fiji, Cook Islands, USA and the Philippines are the top travel destinations for Kiwis this year.
Meanwhile, Expedia.co.nz has reported a nearly 70 percent increase in interest for international travel since the border restrictions were eased.
Top international destinations on Expedia.co.nz since March:
Fiji

Sydney

Melbourne

Los Angeles

Gold Coast

Brisbane

London

Singapore

New York

Oahu
Plus, over on Booking.com it's similar list. NZ's top international destinations:
Rarotonga, Cook Islands

Gold Coast, Australia

Sydney, Australia

Nadi, Fiji

Melbourne, Australia

Denarau, Fiji

Brisbane, Australia

Dubai, UAE

Noosa Heads, Australia

Los Angeles, US.
If you're looking to escape Aotearoa in favour of a warmer destination in the coming months, here's the HealthCarePlus team's quick guide to our top destination picks where you can plan a quarantine-free holiday. And to be honest there are no surprises
Rarotonga
A big favourite with the HealthCarePlus team is Rarotonga. It's always a good time to visit as The Cook Islands enjoy a pleasant warm and sunny climate all year round. The drier months are from April to November with an average temperature of 26°C.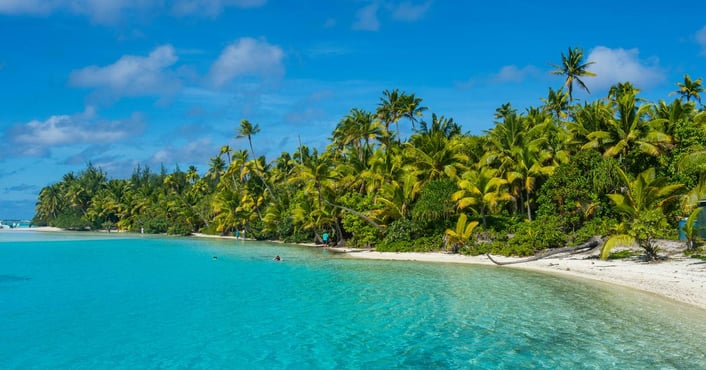 If you're looking for rest and relaxation, family fun, activity or adventure, you'll find it all in Rarotonga and it's also good to know that no hotels are taller than a coconut tree. But remember don't spend all your time in the resorts, get out to the local markets and support the community too.
The Cook Islands air and sea borders are open with flights currently available via Auckland, with two-way Quarantine Free Travel (QFT) - so no quarantine or isolation at either end of the trip. Yay!!
For more information around entry requirements check here
Fiji
Another favourite of the team. Fiji reopened its borders to fully vaccinated international tourists in December 2021, so both Air New Zealand and Fiji Airways have already been flying regularly to Nadi.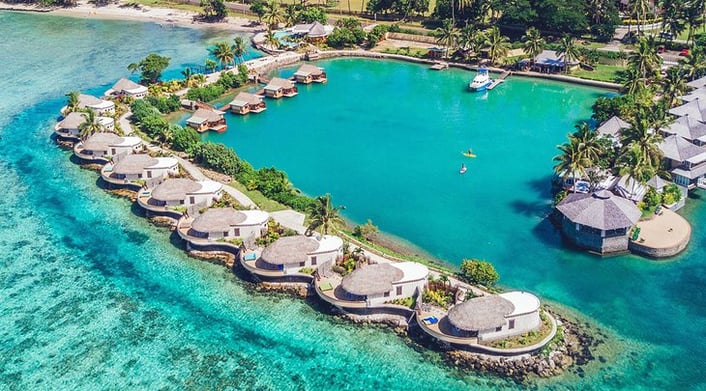 Wherever you go you'll hear BULA! It's more than just a greeting, it's the spirit of the country. With 333 islands, white sand beaches and year-round tropical warmth, it is hard not to feel happy in this Pacific Island nation. If you're looking for a romantic getaway, an adventure-packed escape, or you just want to lie on the beach and order from a menu, you'll find it in Fiji.
There are two seasons in Fiji - warm and even warmer! It's a sunny, tropical climate that'll wash the winter chills from your bones. May to November is the slightly cooler period with temperatures ranging from 19°- 29°C.
Check you meet entry, health, and immigration requirements for Fiji. See here
One thing to note is travellers to Fiji must present evidence of travel insurance, with specific coverage for medical expenses due to COVID-19. See how we can help here
Far North Queensland
Kiwi families have long been heading to the Gold Coast and Sunshine Coast in Queensland for their family holidays. While these are still good choices for the school holidays, venture a little further north in the Sunshine State - it will be less crowded and you will be greatly rewarded.
From Cairns you can easily access the Great Barrier Reef, travel to Fitzroy Island, ride the Kuranda Scenic Railway and explore the Daintree Rainforest.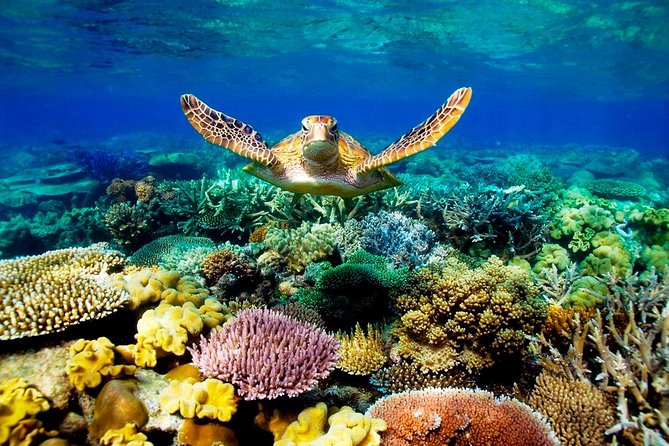 Townsville is a great winter family destination with lots of things for families to do. There is a lovely walk along the seafront called The Strand that has playgrounds, cafes, and swimming pools along it, as well as the sandy beach.
To get there, you can fly into Cairns or Townsville easily from many cities across Australia. From New Zealand you can fly direct from Auckland to Cairns otherwise you'll have to make a connection in either Sydney or Brisbane.
Entry requirements are here
Finally remember...Protect your travel plan during COVID-19 pandemic
As a HealthCarePlus Member you are entitled to discounted travel insurance. We've negotiated a travel insurance product with Cover-More Travel Insurance which is designed to protect you and your family when the unexpected happens on holiday.

So that's our choices what are yours. Please tell us about your plans for that winter break to ease the winter blues in the comment box below. Where are you escaping this winter?