The standard of dental treatment available in New Zealand is similar to that available in other developed western economies, but the cost of dental care in New Zealand is forcing thousands of Kiwis to forgo preventative treatment that leads to emergency 'fixes' when it gets too painful.
"If a tooth is treated early enough, everything can be saved. But often the problem is put aside because it's too expensive or (people) see it as a problem for another day".

Jonathan Broadbent, Associate professor at Otago University
According to the NZ Dental Association's 2018 fee survey, extracting a single tooth costs $229 on average, and $138 for every additional tooth. Alternatively the measures to save a tooth including root canals, implants and crowns can cost upwards of $1,000.
For children it's less of an issue. All school children in New Zealand are entitled to free basic dental treatment. Most schools are visited by dentists who carry out the work during school hours. The free services include: dental examinations, fillings, extraction of primary teeth, placement of fissure sealants and applications of fluorides. This has seen an overall improvement in Kiiw Kids oral health
It's when children reach adulthood and they must pay for their own dental treatment that the problems start.
Most adults are required to pay the full cost of treatment - a check-up, a filling and a clean can cost up to $645 (Stuff, 2019) a visit.
There's no fixed scale of charges, so it pays to shop around. Some city-dwellers even go outside the cities for treatment, driving half-an-hour or an hour to smaller towns where treatment can sometimes be cheaper.
Now one in three New Zealanders has untreated dental decay, with no hope of treatment.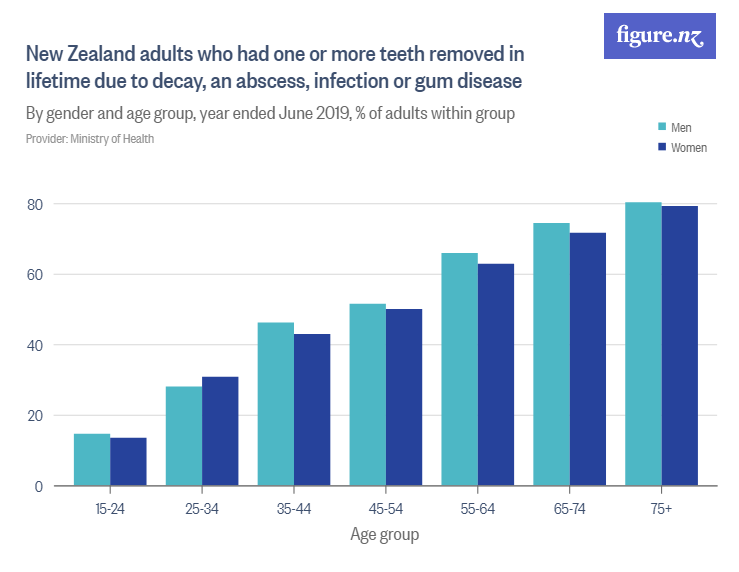 So, just how much does it cost?
The following table taken from the NZ Dental Association's 2018 fee survey should give you a feel for the sort of prices charged in Auckland, Christchurch or Wellington. Auckland dentists tend to be a bit more expensive on average than those in other regions.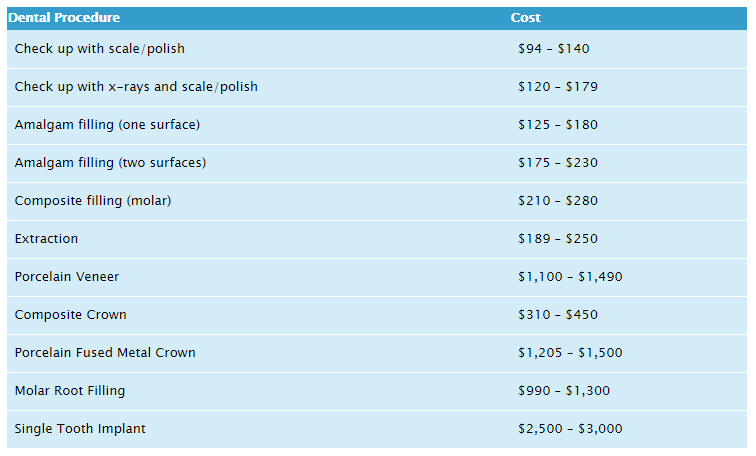 Some dentists include a scale and polish in the check-up. Others employ hygienists who charge you separately.
It is recommended that you find a dentist who cleans your teeth as part of the check-up as this works out much cheaper. In New Zealand you should have a check-up at least once a year.
And finally, some advice from Consumer who carried out a survey on Dentist fees in 2017. See our copy of their article here
If you're looking for a dentist, we recommend asking what they include in a check-up. If cleaning and x-rays are extra, ask for these costs as well.

Whether you're a new patient or not, it's important to find a dental practice open about the prices they charge.

You also want a practice that meets your needs: you shouldn't have to pay for a pricey follow-up appointment with a dental hygienist if your teeth only need a basic clean.
So, the message is clear if you want to keep that smile then get a regular check up before it gets too painful and costly.
Take the pain out of paying the bill
That is why our Union Owners created HealthCarePlus, to provide low cost insurance to cover their members against the rising cost of keeping themselves and their families well and healthy. We can give you up to a maximum of $250 per year to look after your oral health.
Our Primary Care Extra and #care4U plan provides cover for up to $250 every year which includes dental examinations, x-rays, cleaning/polishing performed by a Dentist, Oral Surgeon or Dental Hygienist.
It also covers fillings and teeth extraction (excluding wisdom teeth) performed by a Dentist or Oral Surgeon, periodontic and endodontic treatment. Click below to find out more.