HealthCarePlus had the opportunity to visit Whangarei recently and meet one of our Grants for Good Group recipients and see for ourselves the awesome work that they are doing.
The project is called The Wellbeing Achievement Challenge and it's a region wide multi-school project. It aims to Improve the hauora of their tamariki, whanau and kaiako by Increasing students and teachers skills, knowledge and confidence in leading wellbeing initiatives and building connections, networks and relationships to collaborate towards positive collective impacts across the region. The project is ambitious, they have 14 Wellbeing Action projects underway across 5 Kāhui Ako which consists of 42 schools and 14,000 students.
We were invited by Anne Cooper one of the groups co-leaders to their first hui of the year and it was a very impressive and inspirational day and so we asked John Seed our CE to give us his thoughts on the day:
My colleague Alan and I recently had the privilege of attending a Hui that was being held by one of the receivers of HealthCarePlus's Grants for Good program. When I received the invitation from Anne Cooper the project leader, I felt very privileged to be invited but was not quite sure what to expect.
We arrived about an hour after the Hui had started and when we entered the room, we knew we were about to experience something special. The noise from the room gave it away, there was an electric and contagious vibe in the room. The attendees were all engaged in deep and passionate conversations at their tables.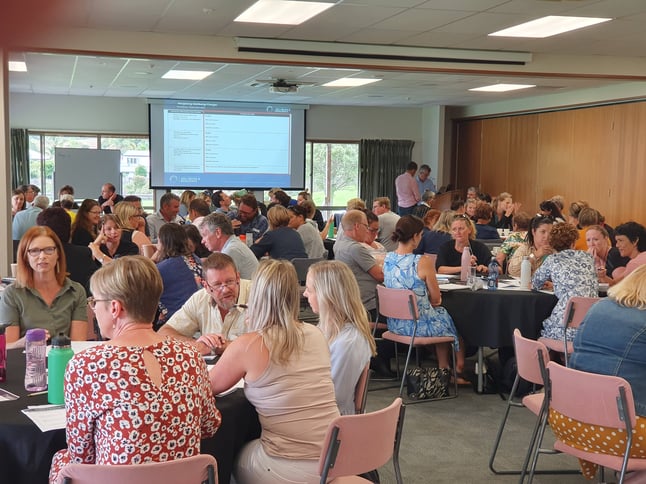 During the day we got to hear from the participants how different, but also how similar the experiences and needs of their students and educators are. It was irrelevant as to whether you came from; a large school or a small (2 or 3) teacher school, Principal, Cross School Teacher, or a teacher that had recently joined the profession, or if you came from the ECE, Primary, Intermediate, or Secondary school, your thoughts, ideas, and contribution were all equally valued and appreciated. The honest conversations about complex and challenging topics made it very clear that there was an amazing level of trust and respect between all the participants.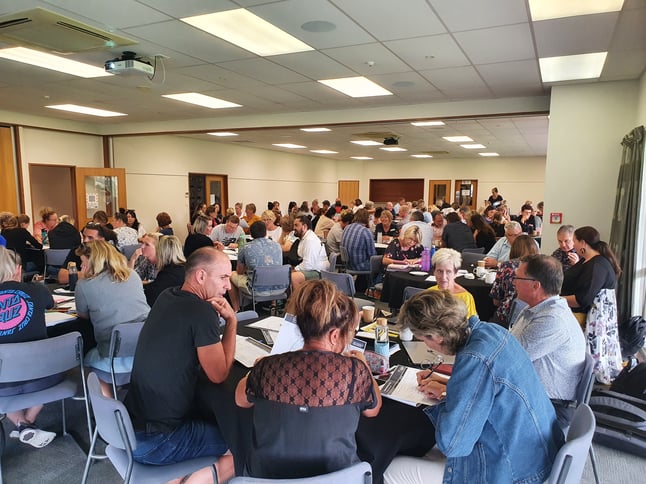 The day was facilitated by Denise Quinlan from the NZ Institute of Wellbeing and Resilience, Gayle Wellington from Nga ti Wai iwi and Chris and Greg Jansen from the Leadership Lab. They all did a great job and provided the behavioural framework that is critical to enable delivery on the group's aspirational outcomes.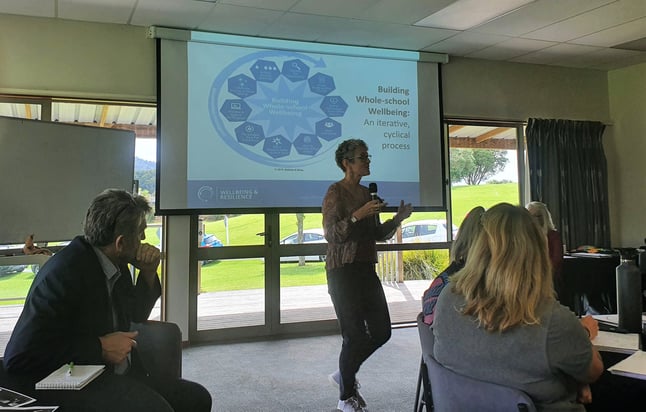 Denise Quinlan, NZ Institute of Wellbeing and Resilience
As with any project around behavioural change, having appropriate data is critical to measure success. So, all schools had been provided with a questionnaire for their students to complete where the students were all asked to rate their 'Wellness'.
What is amazing is that over 7,000 students have already completed the questionnaire. This must be a NZ first in student 'Wellness' data? The data has been set up so that it can be analysed based on several different criteria, and the data can even be evaluated at a school level. This survey will re-run at a future date and the impact of the project will be able to be assessed.
At the end of the day, I was fortunate enough to have an opportunity to provide the group with some feedback as to our observations of the day. For me it was all about the positive conversations and the absolute commitment by all participants to tackle a very real and significant issue. We both left with an absolute belief that the students and educators at these schools, are privileged to be part of an amazing group committed to making a real improvement in the Wellbeing of this community."
If you are interested and want to know more this year's Grants for Good and how to apply for one then click here